I debated whether I should put this in my needle-cutter thread but the forum title settled it for me...
In part, trying to justify purchase of my new Prusa I3 MK2S printer and also to satisfy my rather new-found interest/curiosity with "corexy" technology... here's a MPCNC-inspired CoreXY-variant laser engraver/cutter I've recently built for fun.
This is in the spirit of my CamSlider (
https://www.thingiverse.com/thing:1984162
), detailed over in the needle cutter thread, where I've repurposed/reused/modified MPCNC (and other) parts, and combined them with a few of my own, to cobble together a brand new machine. Similarly, I had recently completely rebuilt/redesigned/converted a small, and very flimsy, Makeblock pen-plotter to use CoreXY technology (also detailed in my other thread)... and was very pleased with the simplicity and operation of the little laser engraver that resulted.
So, when a friend no longer had room for the early-version 2'x2' MPCNC I had previously built for him -- and I really didn't just want to do yet another MPCNC rebuild/update -- I wondered if I could marry the MPCNC with the CoreXY technology that had so fascinated me with the little Makeblock machine. I tore the old MPCNC all the way down to the feet/base, reclaimed all the hardware and the L-cheapo 2.1-watt laser my buddy had purchased/installed, and then started looking for "building block" parts I might use to build the new machine I envisioned. In addition to Ryan Zellars' MPCNC, I've borrowed ideas/parts from his LowRider and also a novel, snap-together printed 3d-printer, Snappy (
https://www.thingiverse.com/thing:1828359
).
I realize this machine is too large/heavy/clunky for corexy and a general-purpose CNC -- I'm just a seat-of-the-pants mechanical "engineer", after all -- but as a dedicated laser-toting machine, with no real tool-forces to deal with, this machine seems to operate quite well. It's been a fun project... and I'm quite pleased with the result.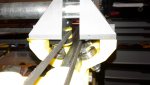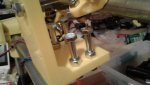 -- David
Last edited: