After seeing the Bruce of New Zealand (
RCModelReviews on YouTube
) I thought I would have a go at making my own directional antenna.
So far, so good. Printed the unit and the former - had some silver coated copper wire left over from jewellery making and have got to here...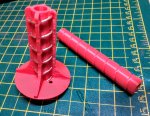 Have ordered the semi-solid coax cable and SMA connector. Just got to sort out some aluminum or the like for the reflector.
If you fancy making one, and have a 3D printer the link is
here
.
Last edited: