Last night I got to check off a plane from my wish list.
Picked up a very nice (used) Radian.
I've wanted one since last summer when I had the chance to fly with Chris.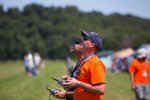 I came home after FF and used my Bixler to go soaring. Worked out well but I was always having to strip out the FPV gear.
So last week I posted a note with the local group and presto.
According to the previous owner he flew the Radian about 10 times before deciding he wanted something different.
Can't wait till July.