You can blame this one on the
After Hours
guys but I have a new go to plane in the fleet.
The Park Zone Sukhoi SU-29MM
I've been flying electric planes for a year now.
I've had a few new foamies but the SU-29 is the first big dollar serious purchase
but since it was a birthday gift it does not violate the "cheap" hobby rule.
I picked the plane on up Thursday after placing an order with my local store.
I'd be out driving with my sports car not really thinking. In fact I'd spent the afternoon flying with my Dad.
Picking up Su
- That is a really big box.
- Yeah this is not going to fit.
- We ended up leaving the plane at the store and getting my Dad's car.
XT60
- Look at all that green.
- You know I had to practice saying "SU Khoi" for some reason I kept pronouncing it all wrong.
- Ah unboxing shh. Not supposed to be opening the box till later.
- Ah look at that space. Actually very clean and simple.
It did not take my Dad long to cut the stock connector off and put on a XT60.
- No need for adapters when my batteries all use XT60.
- In my Dad's shop I'm not allowed to use his soldering iron.
Binding
- I'd recently bought the Orange DSMX module to fly the UMX Radian with.
- Binding worked out but had me worried for a bit but the combo I run Tunigy 9x with an Orange DSMX module is good.
- The 3 way switch and safe trigger took some programming. I'll cover that shortly in an article/video.
Officially MINE
- My parents delivered the plane later that afternoon.
- Once all the "birthday" stuff was out of the way I was finally able to open the box up. Shhh
- The normal respond from the family. Gee something else to store.
- Meet Su.
Build/Maiden in under an hour
I actually did the build and maiden Su the following evening.
The build took no time at all. A few screws, tape in the elevator, snap a few other pieces and presto you are ready.
-The plane was stuck in the AS3X 3D mode due to a switching issue so I had to keep the speed down.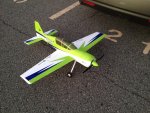 - However it flew clean and straight out of the box.
After the first 2 flights I spent the evening sorting out the mode switch and safe trigger. More on that later.
Saturday was the true first flight
I wont bother talking about the modes since the FT AH podcast highlights everything.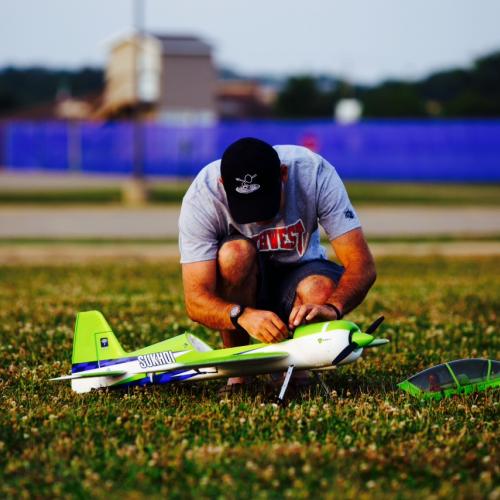 042 ParkZone Sukhoi 29MM Discussion
But at first I hated that Stagility™ Mode it felt to aggressive, till Sunday when the winds picked up and more comfortable with the corrections the mode would make. Then I started goofing around and having fun. I could tumble the plane and just give it a second and SNAP she'd be level again. Just give yourself some height and go for it.
- AS3X® 3D Mode is fun and I will keep pushing myself to get comfortable but early on I was doing a good number of stunts.
I need to teach myself to slow down and enjoy the experience.
- AS3X Precision Mode is was the mode I flew the most in initially.
The plane is very clean and crisp in this mode and I was enjoying the sport flying aspect tossing her around.
Landing
One thing if you are looking at this plane is focus in on the landings.
I thought my T-28 was going to prepare me for landing this thing plane.
There a few things you'll want to know.
1. Speed it will trick you into thinking it will glide in nice and slow but will stall all of a sudden I kept bouncing off the deck initially till I started coming in hot.
2. Springy landing gear. Good and bad. What happens is on a hard landing you will bounce and scrub the prop but that is about it.
I am still getting comfortable with the speed and flaring with the SU but will nail it soon enough.
I've been landing on the gravel running track at my park but find the stone get into the cone and cowl. Something to watch for. Going start landing it on grass I think.
I'll report back on my progress with the SU-29MM but I do feel I've found a plane that is fun and exciting to fly with.
Of course we all know this is just fuelling the addiction.
Last edited: