Hello friends, today I want to tell you a little of the last quadcopter that has joined the family.
It is an AOSENMA CG035, a quad who incorporates a GPS that is possible to connect and disconnect at your whim .. With functions like his biggest competitors ..
Follow me mode, automatic return, point of interest (of 360º looking to the center), failsafe and headless mode and of course altitude hold.
This dron of the manufacturer AOSENMA Toys, but is not exactly a toy, it have brushless motors quite powerfull, besides already having a considerable weight.
It is recommended for beginners, but not for leaving to a child unattended.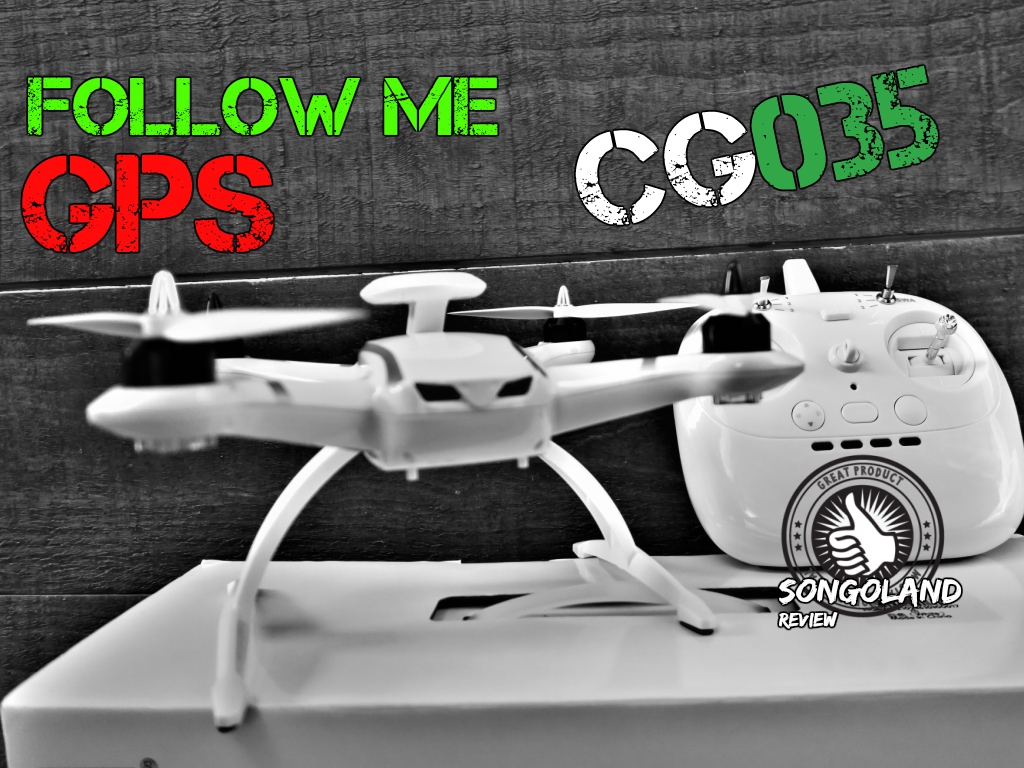 The CG035 is available in two versions, the Standard version (the one I have) and the 1080P version (which is exactly the same but includes camera and monitor)
, after looking at the two models, at last I was not convinced by the camera of the 1080p model, obviously I have not tried but what little I have been able to find out
* about the gimball was not enough to convince me.
On the other hand, the dron seems very interesting for many things, the first is cheap (compared to other drones that promise the same thing), another
Feature that I like, is its size, not as big as a phantom, is rather the size of my Robocat, making it easy and comfort if you have to carry it.
I also like the option of failsafe, just about a month ago, I lost my MJX along with Goprohero, something failed and the dron went flying with the camera of 200€ on top for to never return back.. it is assumed that with this, should not happen, if everything goes wrong, or the connection is lost
*The transmitter, the dron will automatically return to the point where it takes off.
Well, as a video is worth more than 10 thousand words, here I leave the boxing I have recorded.
Video Unboxing AOSENMA TOYS CG035
What you find in the box:
1x Instruction manual (English and Chinese)
1x Drone AOSENMA CG035
1x Broadcaster
1x Batteria 7,4v 2600mah
1x Charger
1x Spare Screw Set + Screwdriver
The Dron:
Esthetically I think it's very cool, but it reminds me look of the MJX that I lost. It has a nice line and is painted in a bright white color that
Gives a different look and quality finish. The frame of this dron is made of a plastic that is pleasant to the touch, just like the transmitter. I think they make a very good couple.
Let's talk a little about its functions:
Automatic take-off and landing.
As a good beginner, I will start at this point, always a little scared the first few times, especially land, well with this quadcopter not have this problems more.
since with 3 pulsations you can make it land /take off alone. (It is recommended to have it one and a half or two feet off the ground before activating this option)
Follow me: Well, this function seems to me amazing! The dron will follow you wherever you go. To rectify the position of the nose, we must leave the following way
And reorient it if necessary manually. Once in the desired position is activated again and ready.
Headless mode: This function for (which I am not very good pilot and besides I do not see very well) is the best one that has! ,, This mode works perfectly and I recommend it
For all those who do not know how to pilot and need to learn.
Failsafe mode: Another super funcion that promises this little one, is .. in case everything goes wrong, it alone would try that to enter in that way when losing the signal and return
Safe and place were it take of.
Height Control: Another of these great functions that make life easier to allo of those that we are starting in this of the quadcopters, that the dron holds
Automatically height altitude is another dimension for pilos. ilove it.
Point of interest: This is very interesting if you are recording video, this model although it is the one that comes without camera, like its brother with camera, it brings all the
Connections and supports to connect a gimall of 2 axes to the dron. Or make some invention (like what I have in mind with another camera) to be able to couple other things.
Automatic return: As this function, although I have tried it has returned (not always near where I take off) obviously has its advantage, with a
Just click the dron will come back alone. I say that I have not always returned to the exact site, but at least it has returned. That if it could also be due to a
Poor coverage of GPS satellites in that place ,, other times it worked perfect.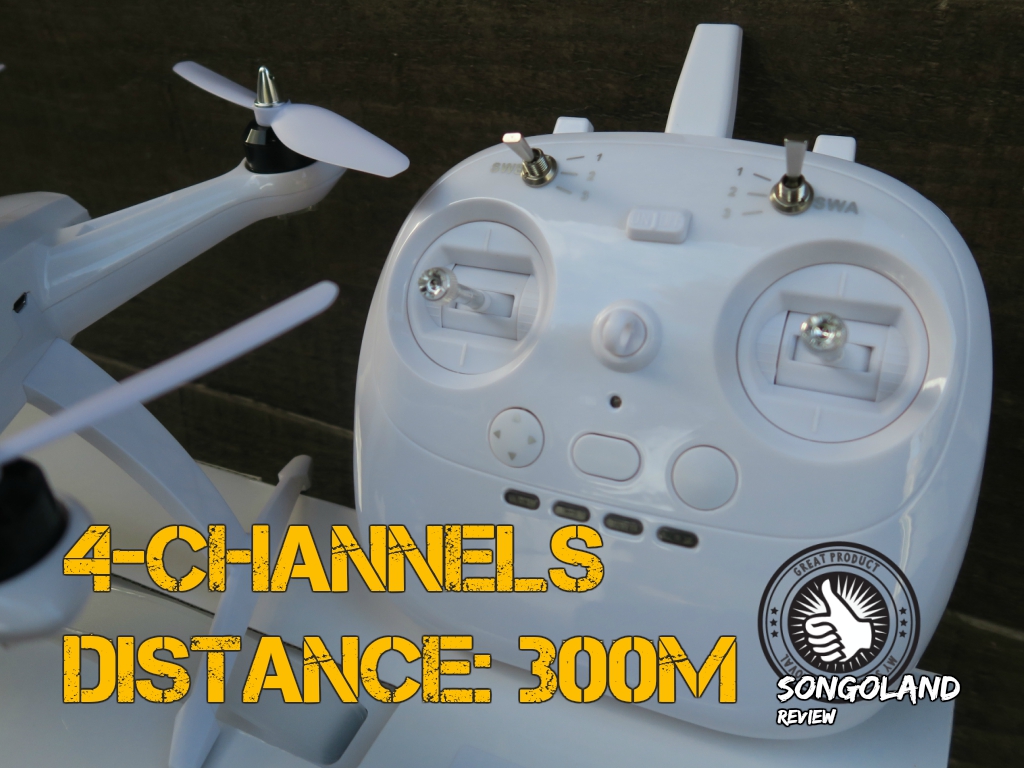 The command: As I said before, this pimp! Made in a pleasant touch and already with a considerable size. Functions with 4 AA batteries, (few for my taste)
The manufacturer promote 300 meters, I still have not taken it that far and I would not risk it. I think this comfortable in a range of 170/150 meters. The use of
Combinations in the positions of the command, at first may seem a bit confusing but ends up being comfortable soon.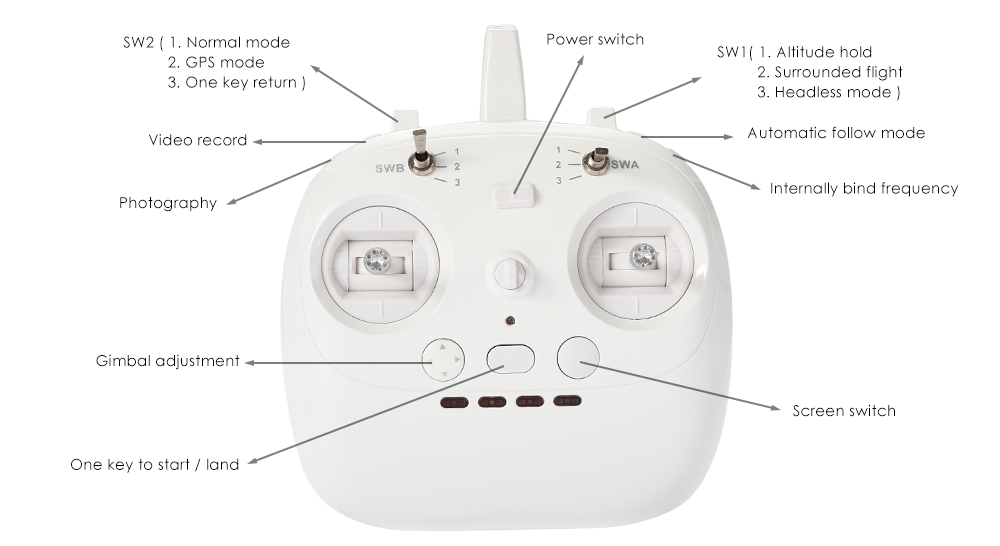 The battery:
This AOSENMA incorporates a battery of two sets of 7.4v 2600mah, The flight time may vary depending on the mode of flight and the accessories that we have
Hooked to the dron, but among all, an average of 12 minutes of flight. Not bad because of the weight of the dron and I really did not expect it to fly more than 10 minutes,
(But the manufacturer in this case says that the flight time is 15 to 20 minutes)
The good point is that the batteries of this quadcopter, are common ones, easy to get, or simply you can buy spare parts of the original for about 15 € each battery.
Personal conclusion.
This dron of the discord has many followers, but also many enemies .. Of course, it is easy to criticize the precision of your flight modes if you have a phantom.
(Which would have cost € 700), I will not go into comparisons, much less with a phantom, but if I say that this dron "low price" has nothing to envy to many
, A lot of that avalanche of dornes that there is lately in the market.
This is clear that it is not a racing dron, (although it runs quite if you remove the GPS) fine and easy to control .. so you do not have to worry about anything just to enjoy.
But look, I repeat! It is cheap but this is not a toy! Those engines if they hook you they will make you go to the hospital.
Thanks to the brackets you carry in the chassis, I think it would be a good dron to mount a fvp on it, since there is a lot of space, and strength has plenty.
To which I take glasses, at least I have to do the test.
I have heard people speak badly about this dron, but I think what is happening is that there is some confusion with the models, THis one is an updated model, but it still has the same name
Which it had before. There is a version od this drone, that does not have GPS, and that version is true, leaves much to be desired. But in this model, at least tfor me, at the moment works me wonderfully.
Here I leave a short list of what for me are its pros and cons
Pros
One of the most economical drones on the market with GPS
Follow me
Retourn home
Safe Mode
Point of interest
Height control
Possibility to deactivate GPS
Cons
Gimball (in the version with camera)
Camara (In the version with camera)
Related Links and Interest:
More technical data and purchase link:
http://bit.ly/2gncz5s
Battery and spare parts spare parts:
http://bit.ly/2gUzxSr
Improvements to 3D printing:
About _sOnGoKu_ - Thingiverse
My other RC:
SongoLand
- YouTube
Here is the video of how to correctly configure the GPS of your CG035:
Here I leave a video of my first flight:
Well here I leave, I hope to serve someone. Likewise if someone has any doubts about this dron and I can help you, you just need to ask me.
Thank you for coming here.
If you are interested in the thread subscribe, I will post the new things of this dron here.
regards
Last edited: