Administrator
Staff member
Admin
Moderator

We'd like to start off by saying thank you, to the viewers who have made the Flite Test community what it is today! We have all kinds of great things planned in the future, but none of it would be possible without your support!
As we move forward, we wanted to update you on the plans and products that we are rolling out to help generate revenue so we can continue to offer you free, unbiased programming and great RC flying content.



Along with upcoming Flite Test merchandise, as you can see, we have opened up the chance for companies and manufactures to invest in website advertisements on our site.


Click here to find out more about advertising opportunities! And continue to check back for when the merchandise and swag will be available!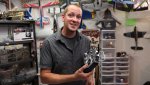 Thanks again for all your support and contributions to the Flite Test website and web series! Continue to contact manufacturers and share with them what you'd like to see on Flite Test!


And also let us know if there's any specific products or merchandise that you'd like to see in the Flite Test merch. store!
​