Just scratch built my second 4ch FT Simple Cub with pontoons, and I'm liking the finished product more than my first attempt - enough to want to paint it!
So I'm not a veteran of the Flite Test community or anything (having only built two planes), but I do work as an automotive painter at a well equipped shop, and my manager let me paint the plane in the shop this morning. Earlier this week in my forum introduction post, I tested out our materials on my unused bomb drop cutouts. The stuff looked pretty good, for foam board (it's easy to see wrinkles and so on, but the gloss is nice), and it was pretty strong and flexible too. Of course, automotive paints seal against moisture, and the topcoat provides UV protection. I figure I'll let you know what I did, since there might be folks out there with decent ventilated paint sheds and sprayguns and so on. Similar quality/different brand materials can be purchased from most motorparts stores that supply local shops (not O'Reilly's or Autozone or anything, but actual supply stores). Some might require that you have a shop account but the one in my town doesn't.
I chose to simply spray the fuselage and wing separate, with sealer first, no prep, let that dry for about 20 minutes, spray waterborne basecoat and let it flash completely (this takes about 30-45 minutes depending on humidity), and then spray a light coat followed by a medium wet coat of our productive bake-clear, and bake it at 120 degrees for 45 minutes.
I'm not gonna just hang this plane on the wall or anything, I'll probably crash this one as much as my first one, so I didn't spend a lot of time (or any) cleaning up edges, nor using primer and sanding it flat. I finished building the plane last night, then went to work and sprayed it in about 2 hours this morning! I weighed it before painting and the fuselage assembly gained 76 grams, and the wing gained 44 grams, for 120g total between sealer, basecoat, and clearcoat. I'll probably slap some stickers or vinyl graphics somewhere on it after the electricals are installed. Let me know what you think (or if this post is not quite in the right place!).
Pictures below.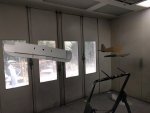 Last edited: