I thought it was time I began experimenting with autonomous planes.
I managed to buy a second hand "fixhawk" (pixhawk clone) with GPS and power module for next to nothing, bought a 500mW 433Mhz telemetry radio from hobbyking and spent several days trying to figure it all out. I managed to get the telemetry working, so I can monitor and control the plane through a laptop or tablet. Added a super cheap FPV set and an minim OSD I still had laying around.
Ultimately, this will go in to my Firstar V2, but I thought it would be a good idea to test everything with a frame thats more "expendable" and less likely to cause any damage. I had a Horten BV38 laying around, though it looks cool, I never really liked it how it flies, but as it turns out, it may be a good frame to try this out. I think Im almost ready to fly: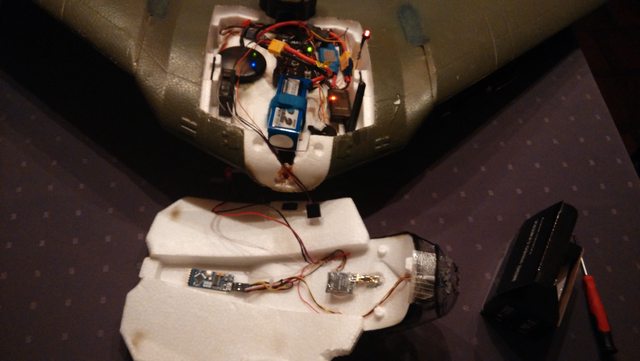 Not the cleanest setup ever, but I wouldnt be surprised if the maiden resulted in a total loss, so Ill clean up once its worth the effort
.
Among the countless things I learned so far: my servo's hate the 433 radio. Even turned down to 25mW and positioned as far from the servoleads as I can, it still causes them to jitter a bit.
Im still scratching my head getting OSD and telemetry to work simultaneously, if I plug one or the other, it always works. If I connect both, often the OSD will be stuck 'waiting for mavlink heartbeat'. Just rebooting the pixhawk usually solves that, but that doesnt inspire confidence.
Anyway, Ill let you know how it went tomorrow presumably.