We all have our stagnant points... either those times when we're working on something and nothing seems to go right, or we
want
to try something new but inspiration and motivation are lacking...
I had one such moment a few days ago when trying to design a 1-sheet DTFB plane, I just couldn't draw anything that seemed worth it. Following along with
willsonman's Bugatti build
, he talked about similar motivational struggles, and that got me thinking... it was actually his
honesty about the struggle
that sparked my imagination. I decided to try and design a 1-sheet DTFB Bugatti, both as a personal challenge for myself, and a (hopefully) welcome distraction for my friend. So, the "Baby Bugatti" was born.
UPDATE: SCALED UP 24" SPAN PLANS HERE:

View attachment Bugatti_2.0_r3_PDF.pdf
SP0NZ PLANS FOR 20" VERSION:

All-In-One | Full-Size | Tiled
SPECS:
LENGTH : 17 in
CG : 0.75 in from wing LE
WING SPAN : 20 in
WING AREA : 77 in2
DRY WEIGHT : 5 oz
ALL UP WEIGHT : 7 oz
WING LOADING : 13.1 oz/ft2
WING CUBIC LOADING : 17.9
RECOMMENDED SETTINGS
THROW EXPO
AILERON 8 - 12° 60%
ELEVATOR 8 - 12° 60%
RECOMMENDED BEGINNER POWER
Motor: MT1806-2280
Prop: 5x5
Battery: 2S, 500-1000mAh (also flies well on 3S and 4S - NOT BEGINNER FRIENDLY)
Previous beta plans:
View attachment Baby_Bugatti_R5.pdf
NOTE: As of 3/11/17, Successfully flown!
UPDATE: SP0NZ plans links added 5/15/17
R5 added 3/21/17 - Adds CG marks, reference scale, throw gauges and refined bottom hatch closure[/B]
Design goals:
Use no more than 1 sheet of DTFB - No carbon, nothin' fancy!
Size similar to FT Mighty Mini series
Scale lines where possible
Simplify shape for ease of construction - FT techniques only
2 servos - Aileron and Elevator only
So far, I think I've hit all my goals; I'm quite please with how it looks, and the first night of building went relatively quickly considering I'm making up the instructions as I go!
The pictures of my first build should tell most of the story, but I'll answer questions as they come. I also will be posting plans, but only after I've sorted the first one myself and added all the twiddly details that crop up when building.
As of posting, I have a motor arriving tomorrow and plan on a weekend maiden, so stay tuned!
Lastly; Thank you to Joshua for his dedication to his own build, and encouragement on mine. His 1/6th scale beauty is a one-of-a-kind, but I would be terrified to take the controls even if he
gave
them to me, so I'm hoping the rest of us can have some extra "mini" fun on the side while we watch.
V-tail
Wing, unfolded, paper removed
Tail pieces, with gauge
V-tail glued with gauge
Vertical glued under V-tail
Underside of tails
Fuse top and sides, unfolded, paper removed
Fuse fold 1 - Standard A-fold, rear half only
Fuse fold 2
Tail slides into rear fuse
Top of tails installed
Power pod motor mount
Power pod reinforced
Wingtip tape reinforcement; necessary to keep the cut-back corner from ripping the paper during folding
Slender spar, mostly to give the wing some shape, not really structural itself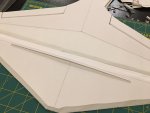 Bottom of wing after folding/gluing
Top of wing after folding/gluing
Elevator pushrod: Single servo pushes a single rod, bent into a long "U" with Z-bends on each end.
Elevator servo will go just under the flap, on top of the wing
Elevator pushrod(s) exit over the V-tail.
Elevator installation is as such:
Feed elevator pushrod thru servo horn
Feed pushrod thru hole on top of V-tail
Mark elevator control horn locations
Install control horns on pushrod ends
Glue control horns into elevator in the marked slots
Center elevator surfaces & Center elevator servo arm
Glue down elevator servo while holding elevator surfaces centered
Fuse bottom showing Rx location, will be closed up after installing aileron servo forward of the wing
Last edited: