Due to the kindness, and generosity of Chad Kapper, I have a chance to test, and review a prototype of his newly designed
Bat Bone
Tri-copter frame.
I'm using it to build a Tri/Quad hybrid called a V-tail.
Here is the version 2 of my original
SweptBack V-Tail
design, using the new
Bat Bone
frame.
I used square aluminum tubing instead of wood for the arms. I had them left over from the tri-copter frame I used for the V1 V-tail.
The KK2 board fits nicely to the pre-drilled mounting holes.
I'm also using a Delrin protective case available from U.S. Hobby Parts. The clear buttons are just some polycarbonate screws run up through the bottom of the cover.
These are my sweptback V arms before installation onto the tail boom.
And here they are after they where mounted, and the boom was trimmed.
By this point I could really tell that the
Bat Bone
frame was going to complement my SBV-tail design very nicely.
With props, and front claws installed, the organic look of this thing starts to become evident.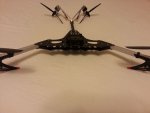 And finally, with the rear claws in place, I decided to hang it up for the night, and called it quits on the days build.
I haven't had time to get much done since these photos where taken last thursday night. Nothing worth photographing at least.
I did manage to re-flash all the ESCs with SimonK, and got them mach-up installed. But it looks like before it will see any airtime, I'll be waiting on some cable to show up from HK, so that I can get the wiring run the way I want.