.
First post here, so I want to say a big thank you to Flight Test and all of the contributors.
I was looking for a cheap airplane when I came across the scratch built plans and tutorials and was thrilled to find something which was fun to build and I don't need to feel guilty about crashing.
Here is my bloody wonder;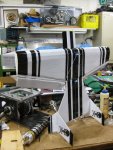 All-in it weighs 435g. I have a bunch of these batteries from my helicopter and I am wondering if the 10c is too low.
I got the 1300kv motor and 20 amp esc and 8x4.3 prop, recommended in the power pod build. It is winter, so I used plenty of packing tape to give it a chance in the weather.
I ironed my edges as per:
http://www.flitetest.com/articles/hot-tip-iron-your-edges
and it worked really well.
I also saw an article (which I cannot find right now) about utility blade holders for setting the depth of cut and cutting bevels. I copied his idea and made these; (after finishing the build)
Thanks again!
-Kevin
Last edited: