Hello friends, I open this thread to talk about my new camera
BoldClash F03 AIO for FPV
.
This tiny 900TVL camera of 40 CH (including Race Band) is a good and quality choice.
The FPV is fashionable, and there are many offers on the market. This camera stands out in many of its virtues, low consumption and easy installation.
It can be used in different ways and comes with a complete set of cables for different configurations. Can be used both , in competition for its low weight,
power transmission and nice image, as well as in daily activities with FPV.
It is as simple as connecting the Cam to a battery (or to the receiver of your RC device) so that it automatically turns on and starts to emit. Just have to
select the channel in your FPV or goggles and ready to have fun.
Video of the unboxing:

Package Content:
1 x Boldclash F-03 AIO FPV CAM VTX
2 x Clover Antennas
2 x Cables Set
1 x Boost Power
1x Instruction manual
The distance range distance is very great thanks to its 200MW, you have a clean and uncut transmission.
Easy to mount anywhere. It is so small that you can put it practically anywhere and it will not affect the least flight (in case of Installed in a flying device)
Spare parts included!
One of the highlights of this fantastic camera is the Omnidirectional replacement clover antenna that comes with it. Yes! Comes with an extra antenna!
This way you can easily replace a welder in case of an accident.
Camera power supply:
The camera is super versatile, can be used from 3 to 26V which makes it perfect for any type of utility. If it is to be used with a voltage
We infer to 4,8V it is necessary to use a Boost Module that is included in the box. Small and light. Easy to install.
Some outstanding features:
Small and straight, Perfect for FPV
The high-quality image sensor captures crisp, clear images of flights with amazing detail
The wide-angle lens covers a wider view
5 bands, 40 channels with Race Band
NTSC / PAL switch
Support selection of 25mW / 200mW with digital tube spot display
*Vertical mirror image and horizontal mirror image switch
Support TX Enable / Disable RF Output Power
Supports OSD with external video input / output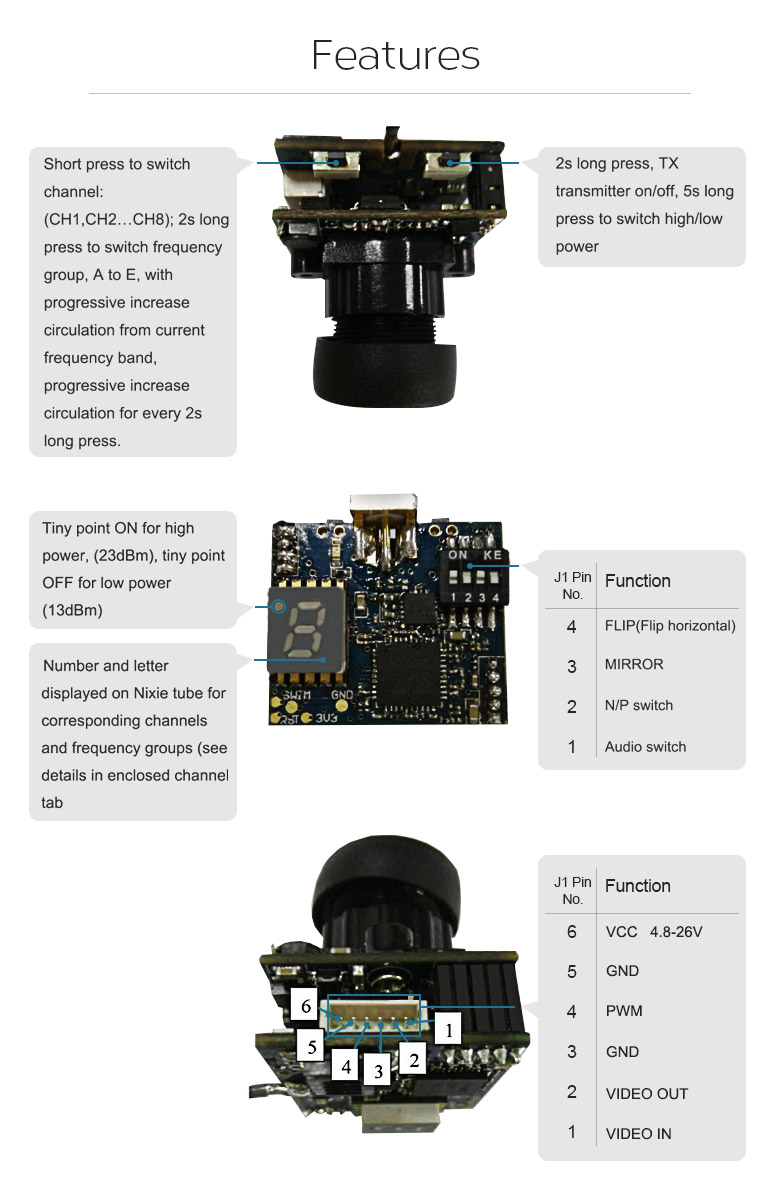 Video transmission.
This small BoldClash f03 offers possibility to select PAL or NTSC, another point in its favor, not to mention the possibility of inverting the image or
Make a mirror (Just amazing for that price) .. supports OSD input video and external audio, ..
As I mentioned, it has 40 channels spread out in bands. Which are configured in the back of the camera, having a clear display,
Being very simple and eaten to set up.
Buying links and other interesting links:
For a discount of 6% use the code: "
BD
"
Boldclash AIO Cam F-03:
http://bit.ly/2iy2STa
Improvements to 3D printing:
http://bit.ly/songoku_Tingiverse
My other RC:
http://bit.ly/SongoLand
Technical Specifications:
Budget
Boldclash Brand
Model F-03
Frequency band 5645-5945MHz
Channel 40 Client
FM modulation type
SEL channel. Touch Switch / PWM
Channel 1 + 2S ABCDE (channel group and channel alternate display, touch button channel + 1 and group A / B / C / D / E + 1 switch of required frequencies Touch buttons up to 2S)
Transmission Power 131dBm and 231dBm
Frequency Control PLL
All Harmonic Max -50dBm
Frequency Stability 100KHz (typical)
Frequency Accuracy 200KHz (typical)
Error in channel 1dB
Antenna port 50
NTSC / PAL input format
PAL Sensor: 960 x 576 @ 1/3
Pixel cash 976 * 592
MAX. Frame Rate NTSC: 60 fied / sec PAL: 50 fied / sec
Lens Angel H110 / V68
Baseband interface 5pin Header + P2.54 * 3 + P2.54 * 3
Power Consumption Max 100mA @ 12V DCIN
Supply voltage 3V-26V
Operating temperature -10 ° C - + 60 ° C
Ambient temperature 25 ° C
Dimensions (0.91 x 0.79 x 0.39) "/ (2.3 x 2 x 1) cm (L x I x H)
Weight 0.34oz / 9.7g
A greeting and Happy New Year!