Hey guys,
so like I said here is the rebuild thread of my Event 3D.
Yesterday holidays started here in Germany so I started today building it and got quite far. It will be finished either tonight or the latest tomorrow. The first time I built it, it took me a week and now I went down to two days because I used the full time available (stand up in the morning, breakfast, building, dinner, building, posting in Flite Test
)
So today in the morning I started by gettin 3 paper thick pieces of paper and draw tha shape of the wing on it. I needed that part 4 times because the wings will have an airfoil.
After being done now with cutting all the less neceessary paper shapes let´s put a new blade on for very neat, nice and perfect cuts.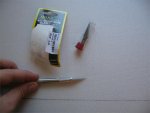 Now here are the 4 pieces cut.
Here you can see the leading edges cut down a bit, so that when it comes to glueing them, the glue has a surface to stick to. By doing this you increase the area a bit, what makes it easier to glue.
First now put two leading edges infront of each other and put some sticky tape on them same as shown in the pic.
Now we need to fold the wing down completely so that the tape can get into place without gettin lose. If so push it onto the depron. (Btw. I´m using nearly everywhere 3mm depron)
Here are the two wings again
Now for the airfoil we need to put a stripe of depron within the wing to create a basic shape for the airfoil. Here I´m puttin some glue on for it.