Propaganda machine
Mentor
There will be many who laugh at me posting something in the heli section... But I've been having a blast for the last week or so, after modifying the tx of my toy $10 coaxial to mate it with a 1500mAh 2s. It's been uncharacteristically windy here in Canberra over the last month, where winter is meant to be predominantly cold, frosty mornings and still, cool and sunny days. I haven't been getting enough of my usual fix of fixed wing mayhem. Maybe it's some sort of winter madness.
Unfortunately it's dark, so it's hard to see him, but the brindle coloured dog curled up on the floor is a Dutch Shepherd.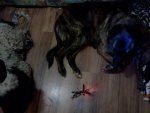 These are a stunning breed of dog, off the same vein as German Shepherds but with brindle colouring, proper hind legs and a slightly longer nose. Our old boy is a rescue dog and is a surprisingly spritely 10-11 year old. Dutch Sheps have a stronger protective instinct and stronger will than a German Shepherd, and love being passive aggressively disobedient. Our fella really reacts to Nerf guns (we never shoot our dogs with them) and will start yawning and biting at them. He's started to do the same with this little heli. It's very cute and very funny. The mrs is away, so I'll have to wait until she's back to get some video.
The black and white dog you see in this photo is our 18 month old poodle. She's as thick as a brick and just keeps walking away, but doesn't react toward it.