Current Logo
​
So, this is my dream project. To work with Multicopter Aerial Photography and Videography for commercial purposes (take that, USA). So I'm currently not in a good position to start any business - but I'll get there. AFAIK here in Ecuador AP is only available with real airplanes and helicopters.
If I get doing this I'll have to travel a lot - as most jobs will be in Quito (the capital of Ecuador) or in Guayaquil (second largest city). But I think there is enough jobs available to be worth it. Just need to advertise A LOT with videos like RCExplorer or TBS.
So right now I don't have a complete plan, just playing around with the idea. This is a website mockup - I'll eventually make it better.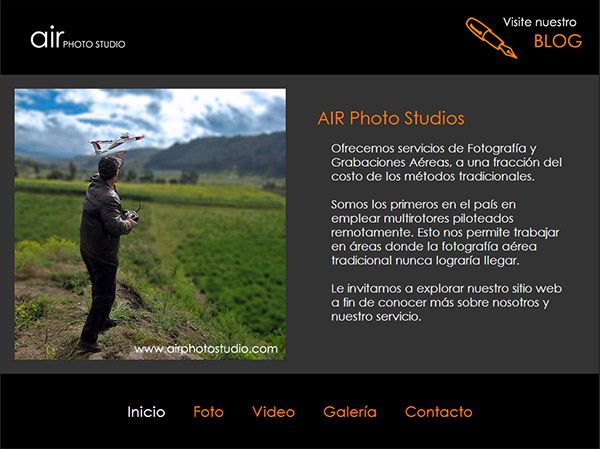 And I'll use cool media like this to advertise to potential new customers.
I want to target the following:
- real estate
- state department of tourism (TV ads with nice views)
- hotels and tourist attractions
- non-news (documentary) reports
- small video production companies
- people with money who want an FPV adventure
So to keep my business safe I have to eliminate all factors that can hint people to how easy it is to do what I'm doing - no brands on my gear, (sorry, no flitetest either), not teaching people how stuff works, just go and do it.
---
So then comes the gear. Over some time I have found these to be quite appealing:
Locust Quad Frame
TBS Discovery lookalike but with GoPro tilt and !cheaper!
RangeVideo FPV
KK2.0 for cheapness, but I'd prefer ArduPilotMega + GPS.
And of course a GoPro 3 White Edition to start out simple.
Then I want a big (15"-19") screen so I can share it with my client.
If I'm going to do it right - I need a backup quad and cam - which makes it more expensive...
---
I'm estimating I need to save up roughly $1500 - $2500 to start... Which is the hard part...
---
What are your opinions? Will it work?
If the business fails, I'll have a lot of fun FPV gear to play with anyway
Note: This might all never become a reality, in fact, being realistic I think there's a 33% chance I am able to make this real. But it's fun to dream, isn't it!