Faster than a speeding face plant!
Mentor
So I got one! I have long been thinking about miniaturizing my BatBone but you can only make a Bat so small. Twitchity has a carbon fiber (or G10 version) mini-tricopter that is 200mm and weighs 71 grams. This copter can handle 6" rotors and 22mm motors and comes with a camera plate and cage for FPV.
These are current specs now as of April 2017. It's been in the air now since 12/2014!
The Parts
Frame: This is a Twitchity mini-tricopter frame as shown for the first time here:
http://forum.flitetest.com/showthread.php?12621-Mini-Tri-Test-Build&highlight=twitchity+test
These kits are a custom order through our very own Twitchity. These are not for beginners, but if you have a copter or two built and flying and are looking for a sweet challenge, this is a fine kit.
Flight controller and ESCs:
The flight controller is an RC Explorer F3FC racing.
PDB is the Baby PDB.
ESCs are the Aikon SEFM 30A V2.
Motors & Rotors:
I went with the SunnySky X2204 2300kv from BuddyRC.
Rotors are HQ 5046 3 Blade props from Aloft Hobbies.
Receiver:
The receiver is the FrSky XSR from Aloft hobbies.
Camera and VTX:
The camera is the Foxeer HS1177 from Surveilzone.
The VTX is the mini 2.5 at 200mw also from Surveilzone similar to this one but more power.
First thoughts:
The machine work and quality of this frame are impeccable. Everything fits. The booms on this are 4mm, the frame plates are 1.5mm. After years of flying and crashing the frame shows few signs of wear. There are some chips and I had to use CA on the edges to keep the laminate together, but she's sturdy and flies like a dream.
What an incredible machine. I have dramatically increased the power and upgraded response. I went from PPM to Sbus from 3S to 4S, upgraded the camera and am able to change the tilt on the fly with a screwdriver.
Current PIDS:
All up weight is now 452 grams.
Current Photo: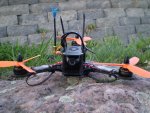 Last edited: