Earlier this year Hobby King gave me an opportunity check out the new Tundra model.
Now that it is officially released we can have some serious fun.
Durafly® ™ Tundra 1300mm Sports Model w/Flaps (PnF)
Check out the
unboxing by DutchRC
.
I know this is going to sound over the top but wow.
This plane impressed me right away. If you looked at my Pawnee review it took some time for me to warm up to that plane well no such issue with the Tundra.
The build is very quick with very little fussing around.
The screws are well labelled and the manual is direct/clear.
I did have a few questions about the servo setup but sorted that out.
Flying on boy. Now I was asked is this a good starter.
No. Why? Well I think it is a lot of plane for someone new.
I'm going to say plane number 3 or 4. Like when you are getting to more advanced flying.
Before that I think you could get into trouble and well have an negative experience.
Will I use it as a training plane? Totally.
FPV? Totally.
Specs:
Wingspan: 1300mm
Length: 1190m
Flying Weight: 1150g
Motor: 3636-950Kv Brushless outrunner
ESC: Aerostar 40amp Brushless ESC
Prop: Durafly Carbon Fiber 12x6"
Initial review:
Flyby footage:
I've flown the Tundra now is all kinds of conditions from perfect sunny calm days to a winter storm in 35 KM winds. It just performs well.
I did all my tests with a A-Spec 3S 2200 65C battery and used an ORX 6 channel DSMX receivers.
Build Photos: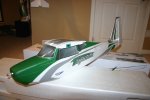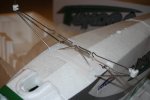 Last edited: