Trying to get my children a step or two closer to picking up a glue gun and transmitter, I just picked up the New Emax Interceptor for each of us. We celebrated our Christmas last night.
As of Right now the only thing I have done with these is get it working with my goggles and drove around. I started around 11 last night. And from there I just had TONS of fun.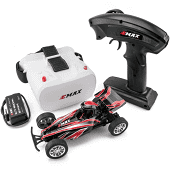 What are your thoughts? have you modded it yet? Have you thought about it?