Posted a thousand or more times
The eMaaD as I'm calling it, is an acronym for "Eric Monroe's angle arm Drachen" and was featured in the wonderful and informative
FliteTest Naze 32 Setup
video.
Here is one of Eric's videos 'playing around' doing endless flips low to the ground. So cool!
eMaaD Race Quad Acro
.
eMaaD Components:
FT Electrohub kit
FT Angle Arm brackets
FT "E" Race Quad Power Pack
Naze32 Flight Control Board
Spektrum AR610 Receiver
Transmitter:
This is a bit of a placeholder at the moment. I will be adding details about my build and inviting questions, of course.
The kit and all components arrived in a very compact box. I was impressed before I even opened it. Once I did, it was a beautiful sight to behold.
I mounted the ESCs inside the Electrohub. I don't think I needed it but I had a battery voltage alarm laying around so I threw that in, too. The blue tape marked the front/center.
Orange arms indicate the front. Pigtail out the back. The Naze32 is mounted with double sided tape as close as I could get to center. I carefully twisted all of the wires going to the receiver to keep it clean and neat and to add strength in case of a crash. The receiver is a Spektrum AR610 because that's what I had. I have since remove the aux 3 and aux 4 wires that had no place to go to clean up the build even more.
Close up showing the motor mounted at the end of the arm, just beyond the angle arm bracket.
Close up showing where the arm mounts inside the hub. The second hole on the bracket starts just outside of the hub (at the edge).
Top view to show alignment of angle bracket to the hub again.
I like symmetry so the wires were run like this.
I just used a tiny piece of tape to hold the antenna down on the hub and carefully fit it under the zip ties. So far so good.
And finally... I don't know if this was intended in the design or one of those flite test happy accidents but the battery mount fits snugly between the bolts holding the arms on with the perfect overlap for the bolts to catch it nicely. If you have a lot of weight, I'd suggest putting washers on before you snug up the nuts. I also shortened the length of the battery/camera mount since I have no camera.
Frog Habitat Dome acquired! I'm going to paint it for easier orientation. I'm thinking White Front, Blue Back, Yellow Left and Red Right.
Frog Dome sanded for texture. The red area was sanded and painted inside for a nice glossy look. The black was sanded and painted on the outside for a matte appearance.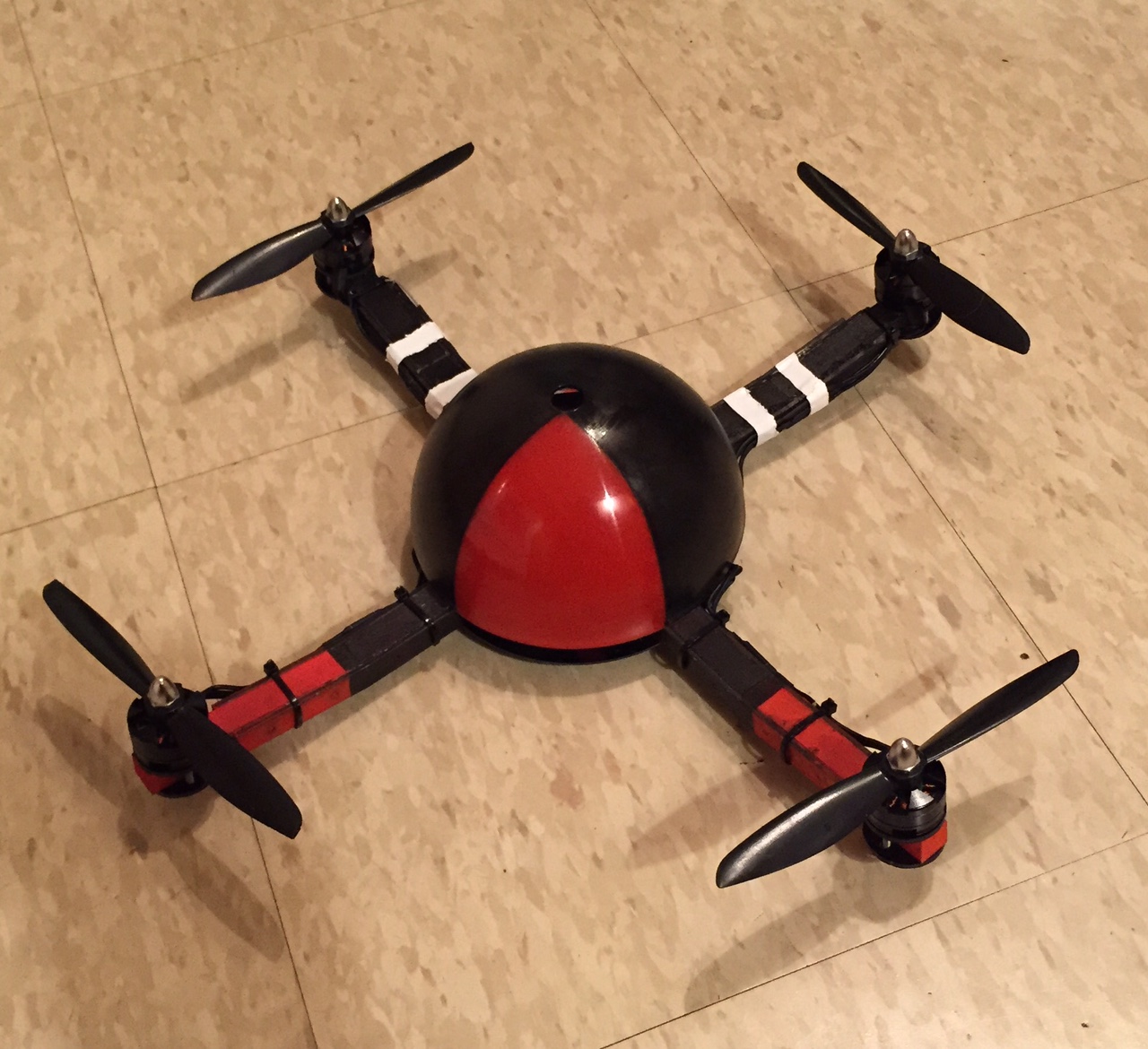 ​
Here is the very short video I took while flying one handed. Needless to say, I had to ditch the phone due to a light breeze that had her drifting toward some large trees.
I'm also tracking my quest for the perfect tuning here:
eMaaD Mini Quad w/ E Power Pack & Naze32: Tweak Log
Last edited: