I'm fairly new to the forums, Flite Test and the hobby. Just started this summer. Since then, I've gotten my son, father, 2 brothers, brother-in-law, and nephew into the hobby. a few weeks ago we had probably our last good flying day of the season and had a blast flying 4-on-4 streamer combat. Here are the planes that we started off with.
The Bloody Wonders are slightly modified with Delta tails, there's a couple of Versa's, a Duster, and my first crack at designing my own plane. I'm sure a lot of you will recognize the plane. Anyway, I modeled it in 3D and created plans for it. I need to tweak the design a bit ( I don't like how I have the pod installed in it right now). But, it flew great even thought it was slightly under powered. It's as close to original size as I can determine not having the original plans to work from. The span is 37 1/2" and it's a full symmetrical airfoil. It cut some streamers before the biggest hit we've had all season took it and a Bloody Wonder out of commission.
It hit so hard it broke 3 out of 4 tabs off the motor mount. The Bloody Wonders prop tore open the fuselage.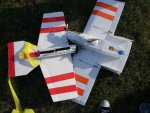 Best guess of how the two planes impacted. It was almost head on! :black_eyed:
Anyway, I will be working on the plans for this plane and a couple of others over the winter build season. If there is any interest, I will post plans for them here.