I may need to make a full fledged article for this, but for now I just wanted to show you guys this.
My future wife has bought in on the idea of having an "Aviation Travel Theme" for our wedding. So to keep with that theme, each of our guests tables will have a plane sitting on top of a vase of flowers. High enough for people to talk without having to look around the plane.
I made 29 planes, all from plans on here,
www.parkjets.com
or a particular thread with a bunch of profile warbirds on R/C groups.
Here are some of the planes... I guess I should mention that I like Dive bombers/ early ground attack aircraft.
As some of you know, spray paint and home depot foam don't always mix, so I used Latex paint, and a Wagner sprayer to paint them all.
So, now I just have to put on the table numbers on the tail or body of each plane, and some pen stripes for some of them as well.
Here are some pics of the wedding. We had a pilot and flight attendant photo booth. A crashed R/C airplane grooms cake. A check in table upon arrival, and some taxing lights for the ushers to welcome us in.
Hopeful future airplane admirer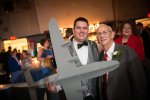 An Archway of planes
Some of my friends having fun with the props…
My ushers bringing the wedding party to their "Gate"
Here is the seating chart that I used that I put in the format of an arrival board.
Last edited: