FS: Kyosho Concept 30 never flown (now w/ Pics!)
Hey Guys!,
Recently picked up a beautiful Concept 30, with a ton of goodies, but haven't had the time to get her off the ground. Got this from a friend of mine, who purchased it back in the 80s, assembled it, and then had it in storage for years before offloading it on me.
It's complete, and comes with a JR XP642 Tx/Rx and Servos. Also has spare blades, and training lading gear. Goodies also include various 12v starters, a glowplug igniter, nitro pump, and various other odds and ends...
Looking for around $500 + shipping. Located in Seattle, WA! Possibly into trades of quads and/or FPV gear
vongreezly@gmail.com
-VG
PICS!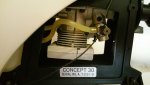 Last edited: