Hi Flyers,
I was inspireed by this FT Article:
http://flitetest.com/articles/foamboard-air-boat-on-the-snow
Even though I have several FT planes that will fly off the snow I had so much fun with this build that I wanted to share it. You may notice an FT Flyer in the background that I have flown from skis as well as micro Polaris.
I hope the original designer will post here also. Mods I made to the original design were that I linked the rudders together using one servo and I added the steerable brake which is VERY handy.
I am using a 24 gram motor with 2s or 3s swinging an 8 x 6 SF APC prop but a 7 x 5 works well also. In one pic you can see I am using an "O" ring packaging box as a battery compartment. Works great.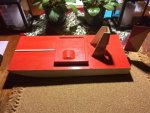 There is also a picture of my buddy's boat which he calls The Tiger but I call the "Slo Boat to China". We are in the trash talking stage before an upcoming race.