Hello to everybody,
Here my solution preventing the FT Explorer inflight wingfolding process well documented on Youtube, based on a 4 mm steel bar, 2x 8x3 pinewood sticks, an aluminium tube and 2 x 1mm aircraft plywood spacers.
Advantages :
-strenght
-modularity (easy possible process to increase wingspan)
-advanced storage (2x 1/2 wing)
-short building time (about 2.5 hours, including R&D !)
-weight increase negligible
My ailerons wing will include the same modifications.
I stay you informed about the first flight.
It is my first FT build. Really amazing and cool.
Greetings from cold Switzerland.
Ol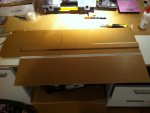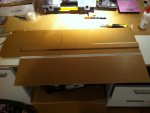 ivier