Bert Rutan designed some marvelous airplanes, but none really have ever captured my imagination more than this legend of an aircraft. Even today, this design has significant aerodynamic advantages over traditional fixed gear, and weight savings over retracts. Its truly a remarkable design that deserves to be more than just a memory for the few.
The AMSoil Racer, Model 68.
Burt Rutan had designe the QAC Quickie some years before, and it was a popular kit, but a 25hp motor and outdated NACA airfoils didn't lend to the slippery air frame the performance it deserved, and pilots lamented that this wonderful design would forever be a fuel sipping featherweight.
Enter Dan Morrison, Salesman for AMS racing, who raced the Reno Air Races in his spare time. he wanted to win, and he wanted to win in something now one else had won in before. and so the AMSoil racer was born.
(heres a pic of Rutan overlooking Dan in the Model 68, sometime around 1980)
Gone was the tiny efficient motor, the outdated airfoil shapes, and the weight of frivolous fuel tanks. In came a 200HP lycoming engine, a set of airfoils designed for 60% laminar flow at 250mph+, and a fully pivoting horizontal T-stabilizer to give extra pitch authority while ripping at 90 degrees around a pylon. Furthermore, Dan changed out his AMS brand racing oil every race, and ran the engine up to 15% past redline every chance he could. The Model 68 was built to do two things, go fast and turn on a dime, and it excelled at both.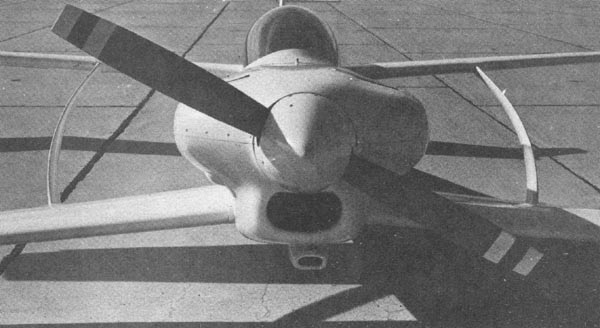 Its a pity that this legend of a aircraft only flew a few years before being crashed, a one off, never to be built or flown again...
https://outerzone.co.uk/plan_details.asp?ID=11273
the plans from outerzone link are in italian, it was designed in 1996 so in hopes that the original balsa designer, Giuseppe Ghisleri ever sees this,
Lavoro meraviglioso, che bellissimo aereo, grazie. This was a spectacularly documented airplane, there is no way I could have done this from scratch.
I'm certainly not finished yet, but am starting the build thread, mostly to have a way to get it at work to print off the templatesd (hand cutting all of this, id better be right) but im also posting to start asking questions.
Im doing this in inkScape, following NerNics build videos, and am i thnk mostly done except for Labeling everything, the power pod and its placement in the fuselage, and the posterboard bits ill have to cut out and then scan, and get the 3d printed parts modeled and uploaded to thingiverse.
Designing this was pretty hard, but really fun, and the next one will be much easier. i have a 64mm EDF just begging to be built around
This is my first plane, so go extra hard on any mistakes you guys notice to make sure I get things right