I have just realised I originally posted this in the wrong place!
The Glasflugel Libelle (Dragonfly in German) was an early all glass fibre 15m open class glider.
At the time it had a performance quite a good as any glider around.
Compared to equivalent wooden gliders it was quite a bit lighter and was extremely easy and quick to put together. Most of the controls connected automatically as the wings and tail were put on. It was also 'clever' in engineering terms as the wings were fixed in place by a single pin and the tailplane by a single 5mm bolt!
The Libelle like all high performance gliders has a very high aspect ratio wing which means that at even 76" span the wing chord is only 5" at the root and half that at the tip.
As the canopy covers the wing it allows the use of a one piece wing so the challenge is a true scale 76" span 'electric' Libelle and just for fun built in Depron!
The fuselage is built in two halves using a former and plank construction.
Slow and tedious as each plank has to be shaped to fit.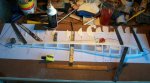 but you get there in the end.
To be continued!