A few months ago, I came across this beautiful bird for sale on RCgroups and decided to pull the trigger, with the intent of converting to electric. While I was back with my family at Christmas, I borrowed some time on my dad's milling machine, and created a motor mounting tray that would hold the motor and clutch stack in place of the .90 nitro. Based on some info I pulled off Runryder before it went down, I decided to go with a 10S power system, driven by a Scorpion 4035 500kv motor, and a 130A HW ESC. Also added in a Castle BEC pro to power the servos. Based on the some of the things I've heard on scalerchelis, I decided to try the Axon out on this model.
I got in a quick first flight at Helis Over Apache Pass in April after finishing up the setup. Initial impressions were good, but the tail was definitely sluggish.
[video]
Since then, I changed out the Analog tail servo for a KST X20 1035, changed some gains, and flew again at Warbirds Over Lake Benbrook this weekend, and it flew great! Still needs a bit more tuning, but it was fun to perform some mock water rescues with the field partially flooded. A friend got some awesome shots from the event: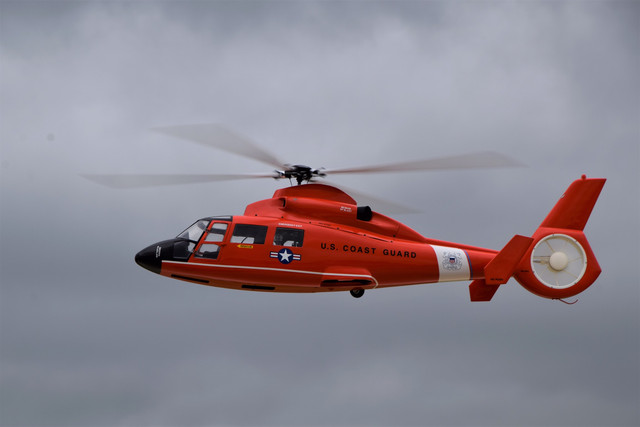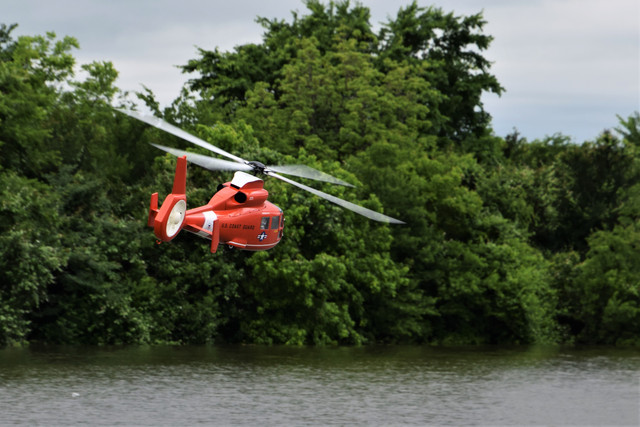 Next, It's time to do some more tuning, and start adding all of the Coast Guard version details. Planning to redo the doors/windows config to make it more accurate to an MH-65A, add the hoist, searchlight, and the other fun scale goodies! Stay tuned..
Last edited: