This is my build thread for
this kit
. It shouldn't be too long as it is a fairly simple kit at only a 600mm wingspan and a one piece profile fuselage. I'll try to keep it as short and simple as I can, unless anyone needs more information, then please feel free to ask. I am always glad to help if I can.
So, let's get started! It arrived looking unlike any kit I have ever built in that it came in a bag, not a box...
So, I dig in and organize the parts according to type: balsa sheet, balsa stick, laser cut flats, etc.
Then it's time for the tedious part. Removing the laser cut parts from the flats. Take your time here as most of the parts are not only held in by purposely uncut areas, but also under-cut spots where the laser didn't penetrate all the way through. You can see these if you flip and look at the back side.
Here is a shot of partway through removing parts...Fuselage is out and starting on the ribs.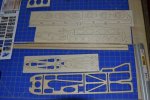 Once that is done, I usually go over each part and sand any rough edges or fibers. Not really important to get everything, it just saves a little time later. One thing that is fairly important is sanding the ribs. I usually try to sand them stacked so they are all the same size, and you don't round off any corners or roll edges. Here they are ready for sanding.