Hi guys!
Today i primary wanted to build on at my Dc3 but then i got a great idea!
I had a transparent peace of a packaging and there was a scrape in it.
But when i went to the rubbish bin i saw that the scrape in the packaging cached the light from my lamp and reflected it.
This brought me to the idea to scrape some marks into it and illuminate it with a green LED.
Well, after i saw the result it didn´t took long for me to build a scale Head Up Display (HUD)
.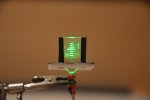 A video is comming soon!
Jetcrafter2000
Last edited: