But I haven't actually seen an Alulah up close before and while all of the flight videos and photos looked great via google, I really didn't like the idea of having to stare through a prop if I was ever going to try to FPV it. So, I decided to scratch build a pusher 48" version from a single $6ish sheet of 4'x2'x2" Insulfoam EPS R-tech from Home Depot (hot wire setup not included). Since EPS is a rigid/brittle/flimsy/light weight material, it really needs to be sparred ($4 fiberglass arrowshafts) and skinned (scotch heavy duty shipping tape) in order to compete against any g-forces. I've found that a properly tape skinned and sparred EPS wing will typically out perform EPP setups in cost, weight savings (speed and endurance), and g-tolerances at the cost of durability/crash recovery, but each pilot's mileage may vary. In any case, this is my first attempt at a forward sweep design.
The build was relatively easy- hot wire the wings out, low temp hot glue them together, cut out the curves, sand it smooth and skin it in tape with a gift card. I didn't take any build photos unfortunately since I thought it wasn't going to fly at first, but I'll try to put together a build guide when I get V2 going. I'm still messing around with wing and airfoil (PW51) AoA and the overall CoG placement between different motor/battery combos, but I believe a 35mm (3530-ish) should balance out the battery and GoPro. V2 will have a different fuselage design once I find an optimal motor/prop combo, but this one is a little nose heavy and was just quick and dirty.
Here's prototype so far:
Specs & Electronics as follows:
Wing geometry:
48" span, 10 3/16" root chord + 1 1/8th in front for forward sweep, 6.5" tip chord. CoG: somewhere around 1.5" from the leading edge of where they come together. Elevons start at 2.5" from the trailing edge at the root chord and taper to 1.5" at the tip chord. Airfoil used was a modified PW51 with a 1/4" vertical insert to bring it up to 1.5" root thickness. Straight front angle, no dihedral.
Motor:
Trusty/cheap Suppo BL2212-6 2200kv
Prop:
6x5.5 APC
ESC:
Turnigy 40amp Plush (w/ braking)
Servos:
Started with Coronoa DS-939MG but they have too much slack in their heads and recently swapped them out for HK 922, lesser torque threshold but no slack.
AUW:
634g (1.4ish lbs) - oh snap.
Batteries:
2650mah 35-70C 3S nanotech flat packs or 45C 2200mah 3S nanotechs / need more flights to get the best CoG.
Radio Setup:
Hitec A9 & Optima 6 with SPC for voltage telemetry.
Endurance varies:
but on a Suppo 1250kv BL-2217/7 running a 9x6 APC (too much for the motor), I was able to get 7.5 minutes worth of fast and unlimited burst climb at 75% throttle and 50m33s of total flight time down to 11.2v thermal-ing around Natomas Field on a particular hot day. I haven't tested the 2200kv setup just yet, but I expect some inefficiency.
Some additional pictures: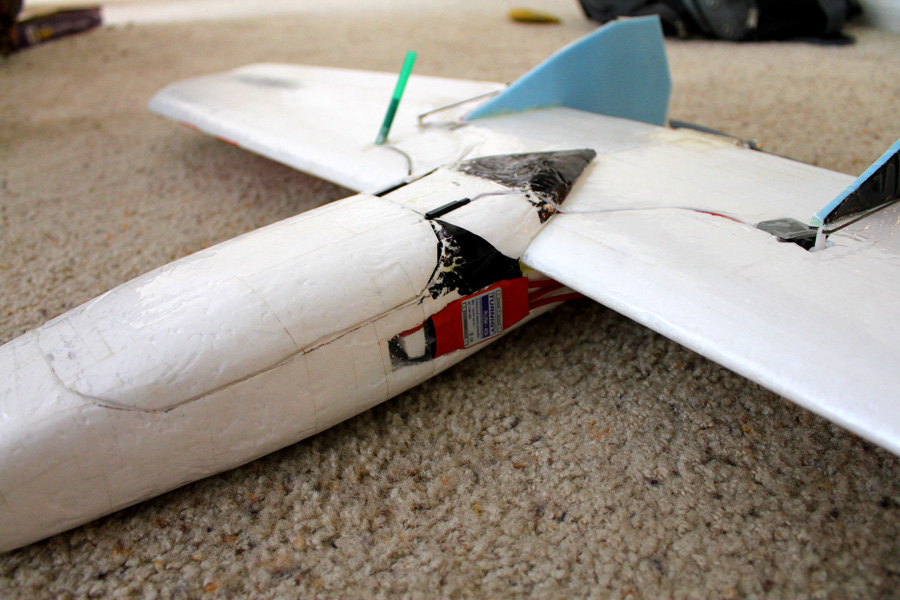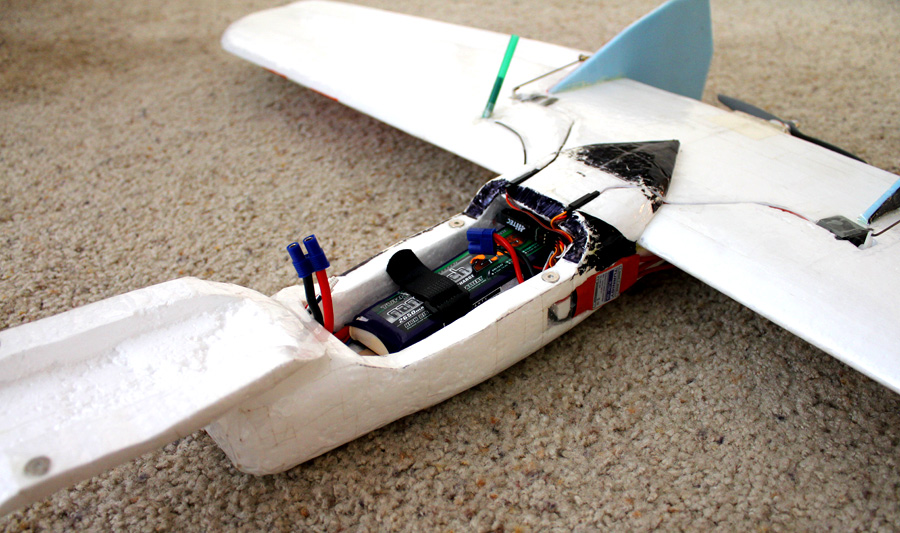 After I re-maiden this thing, I'll see if I can get my buddy to record a flight video for me so I can show off its flight characteristics. It's EXTREMELY aerobatic.
Last edited: