Thanks for checking out this thread, I really need some help on this one.
Here's the story; I spent all day rebuilding from my crash I posted in the "maiden flights" thread. I bought a new body with the last of my RC savings and spent the entire day fixing up my Super Cub. I went out at 7pm tonight and finally flew it. I did all my pre-flight checks, and then launched it. I flew a complete circle trying out the ailerons and doing barrel rolls. It went fine so I decided to test the vertical. It was unlimited! I went up approx. 150-200ft possibly more. Suddenly,once again, I lost control. It stalled and began to plummet towards the earth. I immediately set my transmitter back to neutral and adjusted the the antenna and then tried to save it. 30ft before the ground I pulled up but the wings couldn't take it (I haven't put a spare in yet) and they bent and I crashed pretty hard into the ground. I'm sick of losing signal! What's going on?
here is the info, tell me if you need more:
1st crash:
Using the stock Super Cub receiver and my DX5e-lost signal approx 700ft away
2nd crash:
yesterday- lost signal about 600ft away. Using orangeRX reciever and DX5e
3rd crash
today: same setup, lost signal aprox 300ft away
Other info: both times there were cell tower kind of near by but I don't think that was the problem.
Any ideas? could my TX be bad?
all help is greatly appreciated. I don't have the money to keep fixing stuff and can't stand the thought of not flying!
Thanks guys, tell me if you need any more info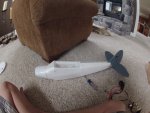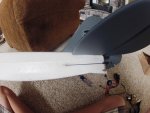 Last edited: