I believe I made a huge leap in my flying today. Probably mostly my confidence.
I built this modified Bixler Gremlin a while back.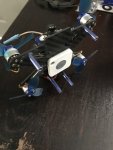 I've flown mostly in wide open areas and my small back yard with okay success. Lots of ballooning and that kind of thing.
This weekend while on a trip I flew my Gremlin on the back side of the pool area which had a number of trees. I took it slow at first like I was flying in my backyard (I can't go too fast back there).
At 1st, it was just back and forth in the clear area. Then I took the leap and headed for the thinner stand of trees. There I was in the shade and under the canopy. I took the turn around the tree pretty slow and steady, my heart pounding the entire time and I leaned my body as if that would help. Before I knew it I was around the tree and speeding along the ground at a good clip.
Three batteries later, lots of slightly faster tree dodging, and even an shot through a V in the tree and no crashes. It felt amazing.
I don't fly as much as I would like to. Getting motivated to get everything ready and head to a site can be a headache. And don't get me started on the heat. In any case, this makes the sweat and solder fumes worth it.
Thank you, Flite Test
Daryl
Aka RotorBearron