While I'm waiting for my parts to come from HK I had an idea about how to make the yaw mech a little crash resistant and I wanted to run an idea past you guys to see what you think.
This is just a mock up using a couple of large popsicle sticks (I think thats how you guys say it
),springs and a bolt for the pivot. Theres some flex in it and its dragging quite a bit but its just so I can see it for real and give you an idea of what I'm thinking. The actual yaw mech would use a stainless steel rod, bearings...
Its basically a modified version of David Windestål's V1 yaw mech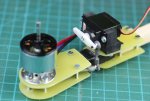 So, here is my version
And here is a quick video of it kinda working.
So, what do you guys think? Is it a good idea or just too much effort and better to go with the normal direct connect or pushrod idea?