So I am fairly new to the hobby but have a ton of fun building these foam planes. I ordered some push rods and other items from FT for my next build and they showed up in a cardboard tube with a 2" ID. As soon as I saw it I couldn't help but want to make it fly. So here's what happened next......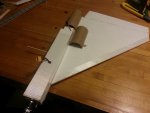 Planning to add some fins and try it out soon....
Hope you all like it.
-Singer202