Hi all,
I just downloaded a model for FMS called Manta, and I wanted to build it, so since I could not find the plans for it i decided to ask here.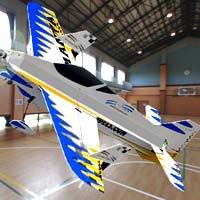 If no one knows about a plan for this, then I also upload top and side view so you can trace it. I tried making the profile in SketchUp, (to print it) but I have not figured out how to transfer it to PDF. I usually work on AutoCAD2007 but it has broken down on me. The plane is scaled to 50 cm, or just under 20".
Also could you recommend a power system for this plane? Would the HXT500 5 gram servos be OK for 20" wingspan? What motor, battery and prop should I use?
SketchUp flat plan at 50cm wingspan:
View attachment Manta.zip