So while I'm building a
26" Balsa Cuda
I thought "gee, wouldn't this be a great FPV Wing racer if it was little more durable?"
And then it was mentioned on a podcast that Laine was cutting some EPP Cuda's! A quick email and invoice later and I had an EPP Cuda kit in my grubby little hands :applause: He doesn't have them available on his site for sale yet - but he should have that addressed in a couple days and I'll link to it then.
So, what does an EPP Cuda look like? Something like this... (pic of Brown Eyed Fool's build)
But it starts out in a box like this:
I'll be doing some modifications to his basic instructions to make a more durable FPV race wing - carbon fiber spar, laminating, control rod guides, camera reinforcements, contact cement instead of hot glue, etc.
But before I start gluing anything together, I'm shooting the top with a nice orange Ironlak Sugar spray paint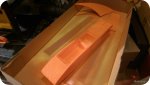 Laine was kind enough to mark the servo locations on the top of the wings - since my servos are bigger than the black lines I'm not worried about the bleed through
And the bottom gets some brown, masking off a couple white stripes on the wings...