I'm 18 and I'm going on an LDS Mission to Capetown South Africa on October 6th! And I have to get rid of my stuff before I go! I would feel bad throwing it away or letting it sit in my basement for two years because I hardly use this stuff as it is, so I figured the good folks in the FliteTest community could make some use of this stuff.
Also, if you have no idea what an LDS Mission is, here's a link explaining it-
https://en.wikipedia.org/wiki/Missionary_(LDS_Church)
EDIT: THESE ITEMS HAVE ALREADY BEEN CLAIMED ARE THE DETAILS ARE BEING WORK OUT. IF BY SOME ACCIDENT OR MISUNDERSTANDING THERE ARE LEFTOVER ITEMS, A NEW THREAD WILL BE STARTED.
THANK YOU FOR YOUR INTEREST!
Now back to giveaway, here are some pictures: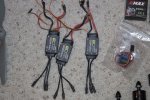 Item's include:
4x suppo motors (slightly more powerful than your average 24 gram motor)
1x Powerpack A motor, esc, and battery
1x 24 gram motor
4x Powerpack D motors
3x Powerpack D ESC's
2x Orange Rx receivers
2x micro servos (maybe 5 gram)
1x 9 gram servo
1x Swappable wood firewall
1x FT elements simple firewall
6x average motor mounts
1x flitetest lipo bag
1x jst to xt60 conversion
1x xt60 to bullet connectors conversion
1x Batbone Tricopter frame
1x tought tilt tricopter tail motor mount
A crapload of propellers (mostly 8x6)
I'm putting this on the "Free" thread because I need to get rid of this, but as I am trying to earn and save as much money as possible for my Mission and for College, I would appreciate the receiver paying for shipping.
Also, I'm giving it away for free, so all I ask is that you return the favor to others and pass on the good will, make somebodys day, serve someone, go out of your way to help a stranger, do SOMETHING to show you value them.
Thanks!
If you are interested please email me at
kimballgoss27@gmail.com
or text me at (801)-362-0305
I am grateful to Flitetest and the fun and education they've provided me, now I want to return the favor to someone else. I'm excited to go serve the people of South Africa for two years and I'm happy to be able to provide for others what my religion has provided for me.
Last edited: