Administrator
Staff member
Admin
Moderator

The
Diana F+
is a lo-fi film camera that shoots on 120 film. When equipped with an Instant Back the camera can shoot on
Fuji Instax Mini film
.
Now, attach this Lomo camera to a Tricopter and you get... a Lomo-Copter!
Mounted to the front of our multirotor is the Diana F+ Retro Film Camera and David also attached an FPV camera to the Diana F+ viewfinder which will allow for the photographer to see what he will be capturing.
The Diana F+ with the
Instant Back
and loaded with film weighs about 500grams, but that's not a problem for our tricopter which is setup with
NTM Prop Drive Series 28-30A 750kv / 140w motors
!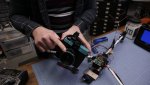 As David flies the Tricopter into place, Josh sees the shot he'd like to take and then snaps the photo by throttling up on his radio. He ejects the photo with a switch which will activate the on-board servo.
Our Tricopter is equipped with a
Hobbyking KK2.0 Multi-rotor LCD Flight Control Board
which will help keeping the multi-rotor stable especially on a windy day like today!
The Instant Back has a push button that releases the exposed Fuji Instant Film. We've equipped a servo switch that can be activated by the photographer so they can eject exposed photos and continue to take pictures while the Tripcopter is in the air!
The
FPV camera
is mounted to the Diana F+ camera viewfinder with a custom made camera mount. The mount is made from InstaMorph moldable plastic.
Check out this video of Chad using InstaMorph to make a replacement mount for the
Twin Star II
.


Josh will be snapping and ejecting the Instant Film photos with a seperate radio. He'll be seeing what the camera sees with his
Fat Shark FPV Goggles
.
In the digital age that we live it, we thought it'd be fun to mount this Diana F+ lomography camera setup with the Instant Back and capture one-of-a-kind instant film aerial photos.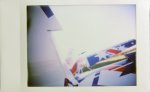 Thanks again for your support!

Check out our New Online Store! Your support allows us to continue bringing you episodes like this!

Equipment mentioned in this episode:
Diana F+ lomography camera

http://shop.lomography.com/us/cameras/diana-f-family/diana-f-cameras/diana-deluxe-kit
Instant Back (Instant Film camera add-on)

http://www.amazon.com/Lomography-Diana-Instant-Back-Black/dp/B0027DK206
Fatshark AttitudeSD FPV Goggles - with Built in Headtracker
http://www.fatshark.com/
Tricopter Motors

NTM Prop Drive Series 28-30A 750kv / 140w motors
KK2.0 Control Board

http://www.hobbyking.com/hobbyking/store/uh_viewitem.asp?idproduct=24723&aff=247441