After browsing around for a few ideas on scratch building my first foam board plane, I decided to build something called an M-Tee Plate - not sure why it is called that, but anyway, it looked like fun, so I grabbed some foam board from the Belfast Hobby Shop and got to it.
The foam is not the cheapest, at nearly £9 per large sheet, but I didn't want to bulk order the cheaper stuff from the mainland just yet.
I downloaded the plans from
rcgroups.com
and printed them out on A4. I had to cut and tape the pages together carefully to get a larger sized plan as I didn't want to pay for A3 or larger printing. It wasn't that hard and before long I had all the pieces cut out from the template: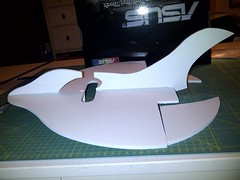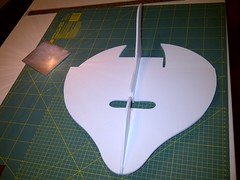 I finally got around to getting some coloured spray paints and tested them on some offcuts of foam board to make sure paint didn't cause the paper didn't lift off; eat the foam; or cause the foam to warp. Great result first time!
The black is very nice - one light coat gets a mirror finish - almost good enough to not bother with a second coat!
The red needed two coats to get this finish, it will either need a thicker application or three coats to get a nice even finish - but red is always bad for that.
Despite the orange hue in the next picture, under direct sunlight this is a bright yellow like the lid. One coat to get this finish.
Satisfied with my testers, I gave one side of each component a light coat of white as a primer and after an hour of drying in my nice warm shed, I applied the first red coat on the wing, front skid and elevons: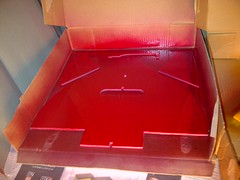 Then changed colours for the "fuse" and vertical stabiliser: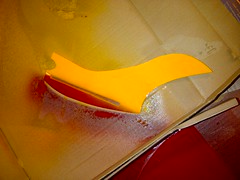 Looking forward to getting the electronics in this one in time for summer. I'm looking at the following gear but I am mostly guessing at the figures. I am, of course, aiming for low cost and reasonable performance:
With 357g of thrust produced from 2S @19340rpm, I am guessing 20-30% more thrust from 3S, but less thrust based on using a 4.75/4.75 prop instead of the tested 5x3. Again, I'm new at this, so not really sure
I may also look at adding a KF airfoil after looking at a few threads here.
Motor 37g
Prop 9g (guess)
Servos 18g
RX 5g
Battery 47g
ESC 24g
Wires, glue, tape, velcro: 10g
Total:150g plus the foam board and paint - which I have no idea on yet.
Comments welcome!