Over the past few months, I've been messing with gliders. It all started when I discovered that I could thermal with my Old Fogey swappable.
I found the Mini-ELF DLG and figured something like that (2-channels, lots of dihedral, small) would be good for me to start with. Like anything I now fly, I had to build it (I get so much more enjoyment when I build them myself). So, from the drawings I found, I scaled them and built my own Mini-Elf...
Wingspan: 800mm
I flew it a few times, then one launch it took a dirt nap. The pod was toast, but the rest of it was fine. So, I redesigned the pod, gave it a V-tail and tried again...
The tail separates from the rest of the pod and there's also a removable battery cover not visible because of the LiPo sandwich.
The v2 flew fine, but I kind of wanted to experience motor gliding so, I built a power pod for it. Then I had a midnight revelation and redesigned it yet again. This time, I made the pod easier to swap out (in-field).
Then, I saw the recent Air to Air episode where they talked about a swappable glider. I thought, "I'm almost there already."
I took it a step further today by making a cruciform (cross) tail for it, so here it is...
From top: 800mm KFm2 with DLG grip; 1m KFm3 with DLG grip (since this is v3, I named it 3LF--lame, I know); V-Tail attachment (left); Cruciform (cross) attachment (right); glider pod (left side); motor pod (left side); electronics pod (right side).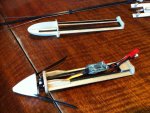 A closeup of the motor and glider pods.
A closeup of the electronics pod. Also shows the tail mounts.
An example configuration:
1m KFm3 Cruciform (cross) tail DLG with 2, 1S 400mAh Zippy Flightmax LiPo. AUW: 98.8g
I haven't bothered covering the pods yet for a couple reasons--mostly because I want to get it right before I make it pretty.
This may not be what Josh B and David had in mind by "swappable glider", but I've had a great time building it.
Cheers!
Randall
Last edited: