Here are some photos of the Funbat a built last night. (Thanks Flitetest, Bloody Micks, Dave Powers!)
This is my idea to try to protect the motor in light crashes. I used a FG rod (white rod), set into CF tubes (short black tubes) that I embedded into the wing, so the rod can be removed if desired.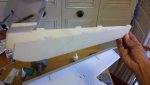 I tried experimenting with the foil, even though it is my first build, and I really don't know much about foils, or lift yet. I set the first bend at a sharp angle with CA (see photo below), and then after that cured I finished the fold. I also beveled, and removed more foam in the crease, than they instructed.
I made a break-away motor mount out of a couple of pieces of G-10, bamboo skewers, and a rubber band.
And here is the Fiberglass rod in place, I hope it serves to protect at least a little.