After spending 3 years with airplanes, i thought i would give multicopter a try. I first bought the plywood frame from HK but soon broke the landing gear so i moved on to building my own frame.
First two packages came from hobbyking
Content includes a frame, 4 x Emax 1600kv motor, 4 x 12A Turnigy Plush ESC, 1 x HK KK Board v2.1, 1 x programming USB, heatshrink tubes and connectors.
Frame was laser cut nicely. Some parts were loose a little bit. I used normal white glue that found at any art & craft shop to glue them together. Takes about half an hour to dry and the joints are pretty solid.
The board came with one gyro slightly slanted, didn't cause a problem however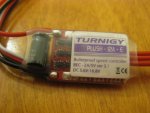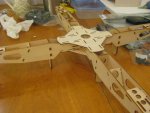 The motor mount didn't fit the slot so i cut off some part to make room for it. Motor is mounted with zip tie, work perfectly