Hi,
This is my first handmade j-20 RC model in the attachment(In Process). I made the pieces by joining 2 Depron sheets each of 3mm in thickness using Hot Glue gun. I want to fly it over 80mph
. I have the following Questions?
1: Hot Glue has more weight and I'm using it alot both on joining 2 sheets added with main joints. So I think it increases its weight more than specified which is 25ounce. If this happens then what will be the Power pack system. As I decided to fit the following system:
DYS Motor 2836/368watt/1500KV/1130gram Thrust (Please suggest Prop too)
Battery 2-3S Lipo 30C of 3200mAH
40A ESC
2 Servos of 12gram.
How much weight I can increase in the mentioned power pack if its OK?
2:Where I need to use the carbon fiber rods to make it strengthen? model size (length 40inches, Wing span 36inch)
3: its about 5mm, so is there a need to make the edges aerodynamic?
4: How to use Fiber Glass Tape to make strengthen. Either on whole model or just on Edges? because its also increase the weight.
5: Also please advice for best RC controller in a range of $100 who could make a link within 2Km.
Anyone who have experienced in any point please let me know in detail.
Thanks a lot.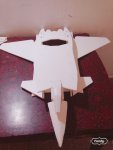 Last edited: