all i could say while unboxing the superskysurfer was HOLLYCRAP! this thing is massive.. each wing is about the same length as my v4 skysurfer.. and the carbon wing spar.. huge!
so far first impressions
PROS:
-huge!
-tons of room even tho they wasted most of the space in the rear part of the inside (because of the wheel assy)
-wheels looks solid . tires made out of rubbery foam, assembly looks aluminum, bearings
-FLAPS!
-rear elevator/rudder assembly could be screwd in instead of glued(but it looks like im missing hardware for it.)
-servos feels really smooth
-can fit 9inch prop, 10inch prop barely hits the boom.
-good quality epo
-cheap! -well i think it is..
CONS:
-huge!
-foam hinges
-missing tail assy hardware
-ele/rudd servo rods are thinner than original skysurfer/bixler
-no screw-on wings!! =[ BOOO!!!! (#1 on my CONS list)
-motor mount mounted crooked
will add/UPDATE more as i set it up more
as for maiden? will not happen anytime soon.=[
im planning to wrap the whole plane first and do some pre fpv mods to the fuselage.. and that will take awhile.. since its bananahobby exclusive i really just wanted to get one before they get "out of stock" like most of the planes on their site..
picture time!
- sorry for the bad image quality on my phone. i need a new camera
follow me on instagram if you want to see more of the hobby stuff -advanaw11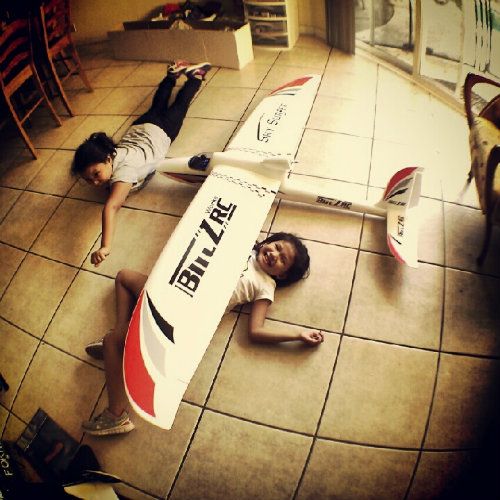 my two wonderful nieces!
taller than her!
will post more pics soon
Last edited: