Hi guys, this past few months i've been working on a tricopter concept a little bit different.
The ultimate goal of this frame is to be able to have different COG's in one platform. Wether it is for fpv, or stunts.
I'm not the best of pilots, in fact i'm still learning to fly multirotors, so i could not be the best of judges to decide if it is a good flight platform or not, i'll leave that to you guys
this is the mark-02, here are the three positions of the arms. Normal - High - Low COG
The revised Mark 03
The material here was pretty weak, i think you call it plywood (terciado aquí en chile) so i needed something stronger and stiffer, the plywood began to get crooked with time and temperature changes. Enters the Carbon fiber.
I loved it, Super strong, and relatively easy to work with. much more heavier than the plywood, of course because of the thikness i went with. 3mm is too much, for the next frame, i will use 2mm, and i think that will be more than enough for my needs.
The overall weight ended being around 1300 grams (3lbs), with everything on it 3S battery and gopro.
This is the vibration dampening system i designed using sophisticated materials and stuff and rubber, never underestimate the power of rubber bands
As soon i have onboard footage, i'll post some videos of the dampening system.
The switch to power the board, simple elegant and very handy
Landing pads, not the most sophisticated, but works great
The belly of the beast, the battery fits very nicely and you can move it forward or backwards if you have the gopro installed or not.
Yaw mechanism, very simple and designed to protect the servo. if you crash, the connecting rods simply snap away from the moving arms, and you save your servo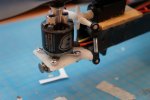 and a video of the rig flying. i have not set up the self level on the KK2 board yet, tomorrow i will, maybe it will be even more stable
Hope you guys like it, i'm fixing a few bugs i found, i will post the plans once i have them finished. Stay tunned
Cheers