Been watching Flite Test videos almost from the beginning. Finally posting to the forum.
I've been flying model rockets since 1970, and I'm pretty good at it.
Contest flying, scale models, rocket boosted gliders, helicopter recovery, and so on, mostly my own designs. Also a "Sunguidance" rocket in 1988 that steers for the sun, gimbaled engine rocket in 1989, and many R/C Rocket Boosted Gliders.
Started tinkering with R/C planes in 1975 with an Ace "Baby" Pulse Commander (rudder only) in a glider. Finally got in some real flying around 1977 with a Goldberg Ranger 42, .049 power and rudder-elevator. Which later led to the joining of the two hobbies in 1980 with my first R/C Rocket Boosted Gliders. A lot of my non-rocket R/C flying has been with sailplanes, built a couple of Gentle Ladys in the 1980's, couple of other kits, and a few of my own. (photo in 1981 - Gentle Lady and two Rocket Boosted Gliders without their engine pop-pods)
Converted one of my custom built sailplanes (with a Vee-T tail) into an electric as I lost access to a field practical for hi-starts (fields overgrown by weeds).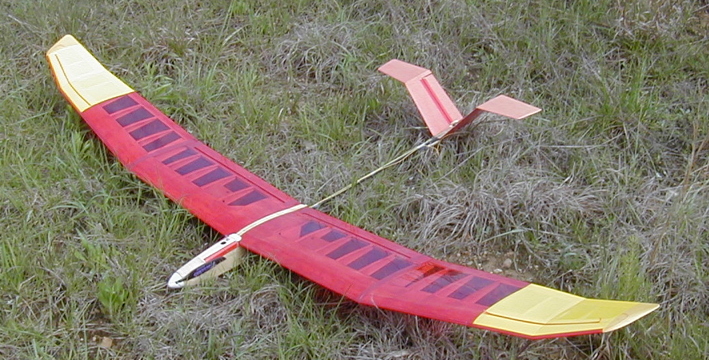 The last few years most of my sailplane flying has been with Radians. Also in recent years I started to fly Multicopters. Really got hooked on videos by David Windestal on his rcexplorer.se site, and that also led me to Flite Test videos.
In 2015 I got a $10 nylon frame for a 250 size quad, and researched the web to find out info on the correct parts and methods needed to build it. Also learned about Arducopter (first heard of it on Flite Test) and decided I wanted the flexibility of having all the programming and set-up options it offered. That Quad worked right off the bat, and even better once I tuned it.
I'm mainly posting this intro message as the first step before posting a thread about a project I started in October 2016 and mostly completed in summer 2016. My second DIY quadcopter, except it's nearly 100% scratchbuilt, not an existing frame, and a VERY unique shape.
Hope to post that thread later this weekend.
A bit more rocket stuff. Vern Estes & myself with a 400% R/C scale-up of the Estes Astron Space Plane F/F Boost Glider that Vern and John Shulz designed in 1961. That 400% scale-up flew great, handled very nicely with mixed elevons and the original dihedral. I think it would make a great Electric powered conversion (My 400% model used 1/4" balsa that was rounded on the LE and TE, as per the original model with 1/16" wings).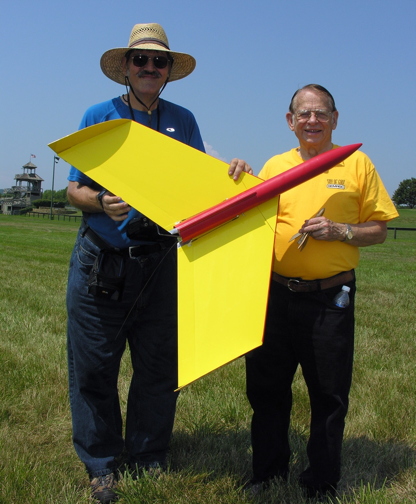 Preparing to launch my 1/72 Space Shuttle in the S7 scale event at the 2002 WSMC in the Czech Republic. Orbiter mostly balsa, with some custom vac-formed and cast parts. SRB's sep after engine burnout (deploy their own chutes), Orbiter sepped by R/C and glides down by R/C (rudder and elevator). Flight Computer in the ET senses liftoff, burnout, commands SRB sep, and after orbiter sep is detected, fires ejection to deploy the ET chutes (The Computer was created and programmed by Jay Marsh, in the late 1990's).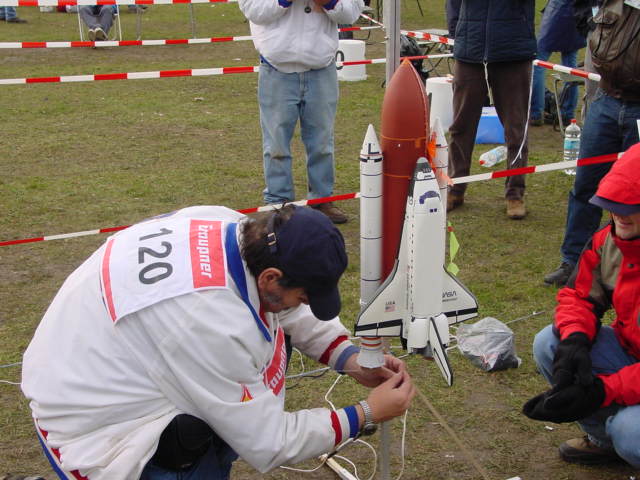 Saw Jon Robbins' Swing Wing gliders in Model Rocketry Magazine in 1971. Made some of my own designs in various sizes, some for contests (1/4A thru F power) some of fun. Some big ones too, 6 foot span or more. Image below has a photo from 1972 at left. At right, a 2007 version which also had rudder-only R/C added (I had wanted to do that in the 1970's but could not afford it and the R/C gear was too heavy in those days).
And simple stuff too. A Halloween Spider Web candy bowl from a Dollar store. Flipped upside down, engine mount and launch lug added.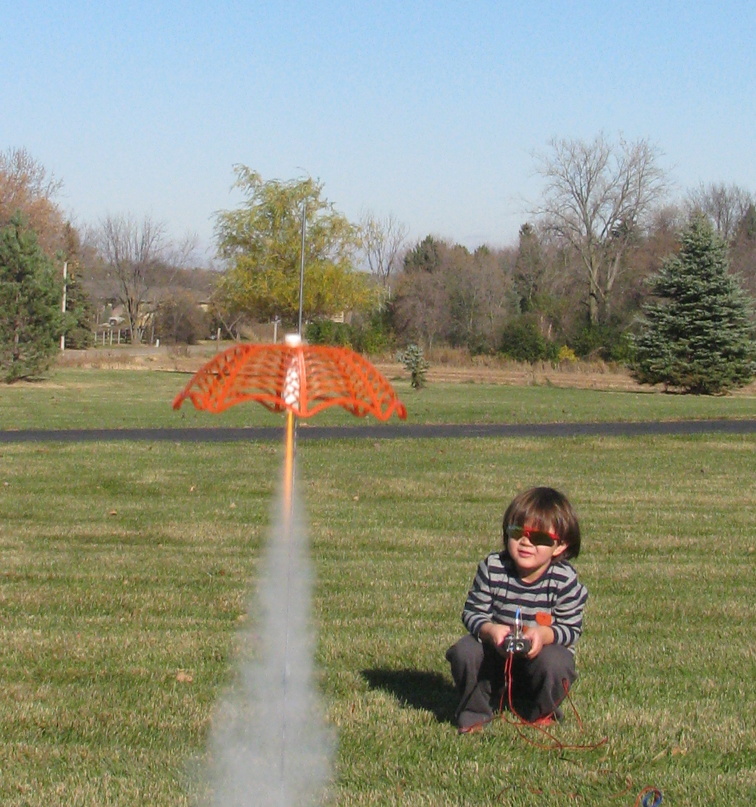 - George Gassaway
BTW - my website is at:
GeorgesRockets.com
I have not updated it in a long time.
Last edited: