Hi all... I need a bit of help.. Im building the bronco (twin c motors) and the video instructions were using old motors...
So... 1) do I use the 'x' brace between firewall and motor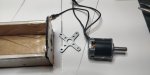 or does the X brace go inside the firewall?
2) im running a str8 setup.. No differential thrust.. Are both motors turning ccw (regular) with cw props or is 1 cw and one ccw?
Ty!
Z