New Tri Build Log, Feedback would be great
Im starting my first tricopter build, well actually my first r/c build and I`m doing this thread so that if I make a mistake maybe someone can help!
Here is my list of parts:
Frame: Bat Bone Tri 370 Kit
Flight Control Board: Hobbyking KK2.0 Multi-rotor
Motors: Turnigy Park300 Brushless Outrunner 1380kv
Props: 8045 SF Props 2pc Standard Rotation/2 pc RH Rotation (Red)
ESC: TURNIGY Plush 18amp Speed Controller
Servo: TGY-211DMH Metal gear Coreless Digital Servo w/ Heat Sink 2.3kg / .10sec / 16g
Battery: Turnigy nano-tech 2200mah 3S 25~50C Lipo Pack
Module: OrangeRX DSMX/DSM2 2.4Ghz Transmitter Module (JR/Turnigy compatible)
Transmitter: Turnigy 9XR Transmitter Mode 2 (No Module)
Reciever: OrangeRx R615 Spektrum/JR DSM2 Compatible 6Ch 2.4Ghz Receiver
The frame arrived, all parts are there!
Starting the build
Frame put together very easily. Not a lot of effort to mark and drill booms
frame with front two booms, looking good
Motor mount put together
Accidentally screwed it in sideways, mount isn't attached at one end, not a big deal
Finished swivel mount, had a very hard time putting the rod through the two pieces, ended up drilling larger holes.
Final product looks awesome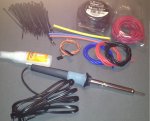 Went to a hobby shop for the first time, really cool experience, overpriced but cant blame them, bought some wires and zip-ties for the Bat
Well, that's it for now, waiting on my electronics. Thanks for reading
Last edited: