Building Fool-Flying Noob
Cessna A/T-37 - Papercraft Method
Lately I've been looking into different methods of design design inspiration and final product outcomes. I'm referring to tape colored tape color printed skins spray painting and other covering methods for planes as well as design methods for the Master series. One of the things that keeps jumping out is papercraft models.
If you don't know what papercraft models are they are people who have meticulously put together scale models made of paper and Fiddler'sGreen.net is one great source and there are thousands of others and many people are inspired by airplanes. This means that there are many opportunities to learn from these papercraft masters and possibly turn that to foam board, and radio control.
I'm trying to brute Force direct method here and I'd like to thank the original maker of the Cessna T-37 plans I'm using here from
stahlhart papercraft
.
My idea is to take these plans and scale them up to fit onto Dollar tree foam or Dollar general foam, and paste them on and see how they build. Similar the theHangarRC.com and
@Rasterize
. Then look at what kinds of adjustments needs to be made for the foam. Even printed large this model won't be terribly big. My estimate is a 20-in wingspan and I estimate the weight I'm thinking will be around 200 g. As I will use about two DTFB sheets.
Step 1: plane sizing and plan mounting
I have taken the PDFs and printed them so one page prints on a DTFB sheet, however, I have chosen to mount them to Dollar General artskills trifold foam board. This board is 28 in x 44 in and is the rough equivalent of two Dollar tree foam board sheets in size, but half the thickness. This should help me overcome the thickness issued I may come up against.
The process is straightforward. determine the increased scale and print it as a poster through Acrobat reader which divides that larger size into standard printable sheet sizes to print. Then, put it together like a tiled plan set aligning the edges and trimming off excess with tape. Normally I use a light pass of spray glue on one side. It allows me to attach it to the foam board sheet but not make it permanent., However, I want it stuck good, so I use a heavier pass. I then remove the paper on one side of the foam board and carefully mount the plans. Then put a stack of board and some weight to keep if flat as the glue sets. hopefully leaving a flat sheet with plans on one side. There is a slight bow, but it Turns out to be perfect.
Step 2: Cutout
with that complete the next step is to cut all the pieces out. The big difference here is you don't need the assembly tabs, so, as you go you cut them all off.
You will need to make a FB thickness allowance at the formers and any internal parts. Like the spar and gear bays.
Step 3: Assemble
This step is very similar to the papercraft model steps follow along, roll, fold, glue in a similar fashion to the Master series construction methods. One thing the papercraft doesn't typically need much of is intermediary supports or a core frame this is evident by only two formers. I found it this seems to be adequate enough.
To get a tapered edge I cut at a 60° angle along the trailing edges of the wings and tail section. This can be done with two pases, sanding, or a long sharp knife at a low angle. Similar to
@nerdnic
speed builds. The result is a good look.
A word of caution, place the wing spar, THEN glue the wings on. Because it won't glue in after.
Step 4: Details
One of the great things about these papercraft models is that they not only detail the craft itself, but they detail the innards and include exposed features like landing gear and cockpits.
I was struck by how accurate the airfoils seem to be. Even the tail had an airfoil. One decision that needed to happen was how to reinforce the tail section as it appeared the main spar method build method was adequate enough. For them I used craft sticks.
Another piece was how much of the inner detail do I use? I choose to include the landing gear bays and I plan to put the cockpit together but the landing gear will remain stationary, built from landscaping wire and 3ply for the main tires, And 2 for the nose. Retracts will be nearly impossible at that size for me.
Step 5: Size and electronics
My finished plane, the A-37B Fuerza Aerea Colombiana skin variant. (It looks like a dragon!) measures in at a 21" wingspan, 18" long with a root chord of 4" and tip of 2.75".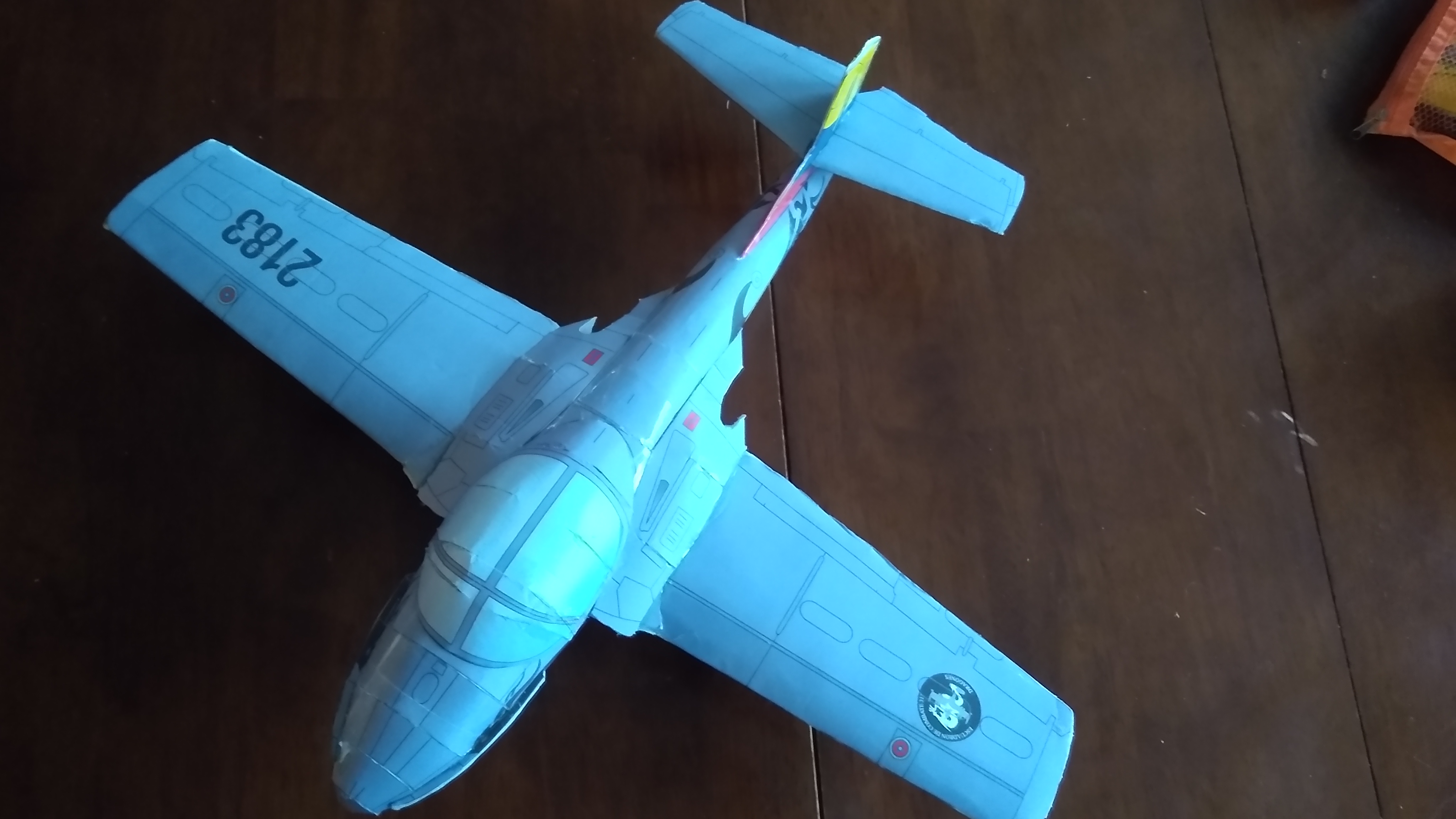 the base model with no electronics weighs 101g and needs about 25g in the nose to balance.
The plane needs around 200g of thrust. This rules out 30mm and a 50mm edf is almost too big. I plan to make it a twin micro-motor with 3" props. (Twin H-pack) possibly a 2S or 3S.
Servos, 2-9g. I want to use 5g, but I don't trust them anymore. I will use diff thrust for yaw control.
More to come
Current thoughts on the build
:
The plane skin is holding up well as printer paper, and weight was just slightly heavier than the stock paper. The biggest adjustment I needed for thickness was for the wing spar construction, and the fitment to the wing. And after building the spar box, I cut it in half to slide it into the built fuse. And to strengthen it I inserted craft sticks in each half. It is VERY strong now.
Last item is CG appears to be at the front of the spar box.