Well, I have some embarrassing news to share that caused some bloodshed. Today I was rushing to get out the door. Don't most bad stories start with "I was in a hurry" or " Hey ya'll, watch this!"? Anyway. We have now covered mistake number one. I was in a hurry to get one of my planes out the door and as a second thought I decided I should plug it in and check it real quick. I plugged the battery in and this is when I realized I hadn't plugged the v-tail mixer back in that I had been using for differential thrust. So I grabbed a v-tail mixer off the workbench and plugged it in. Mistake number two. I never unplugged the battery. When I plugged the v-tail mixer in I plugged it in backwards, meaning the plug that should of went to rudder I plugged into throttle and vise versa. When I plugged into the rudder channel one of the motors on my plane went ballistic! I instantly started trying to unplug the battery while at the same time trying to hold down a plane that had suddenly gone rabid and leaped forward and was now throwing pieces of prop and cardboard everywhere! Somewhere at this point it also registered that something had been hitting me in the arm. I never got the battery unplugged in time. As the prop beat itself against my workbench it caused the screws holding the motor mount to the firewall to strip out. So now I have a motor and whirling blade of fury dancing around my workbench. Lucky for me the prop hit the ESC wires a couple times and caused it to come unplugged. Which leads us to mistake number three which actually could of prevented all this if it would of been done in front of mistake one. REMOVE THE PROP! If your at home or doing any testing or repairs which require you to plug a battery into your plane (or any craft that has whirling blades of death) PLEASE remove the prop first! I have added some pictures below of what happened to my plane. Below that is a link if you want to see what the prop did to my arm. Just keep in mind, I made that picture a link and didn't post the picture for a reason. The link is not for those who are squeamish. You have been warned!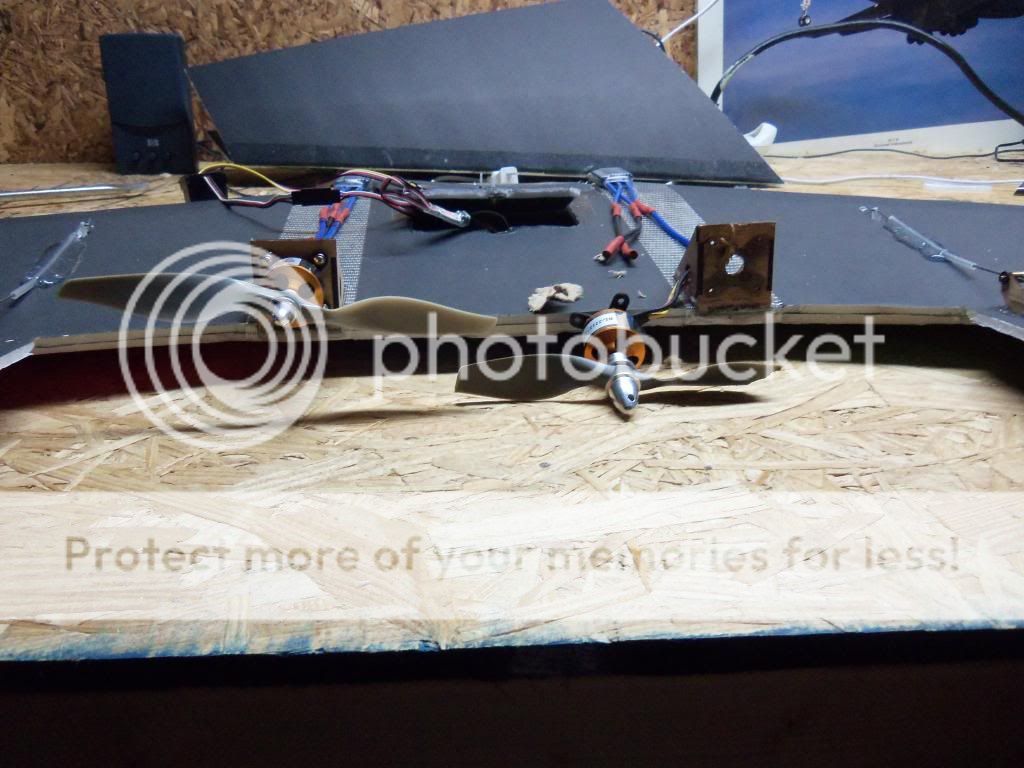 As you can see one prop is a little shorter than the other now. I have to say it held up surprisingly well given all the dancing around it was doing after it came loose!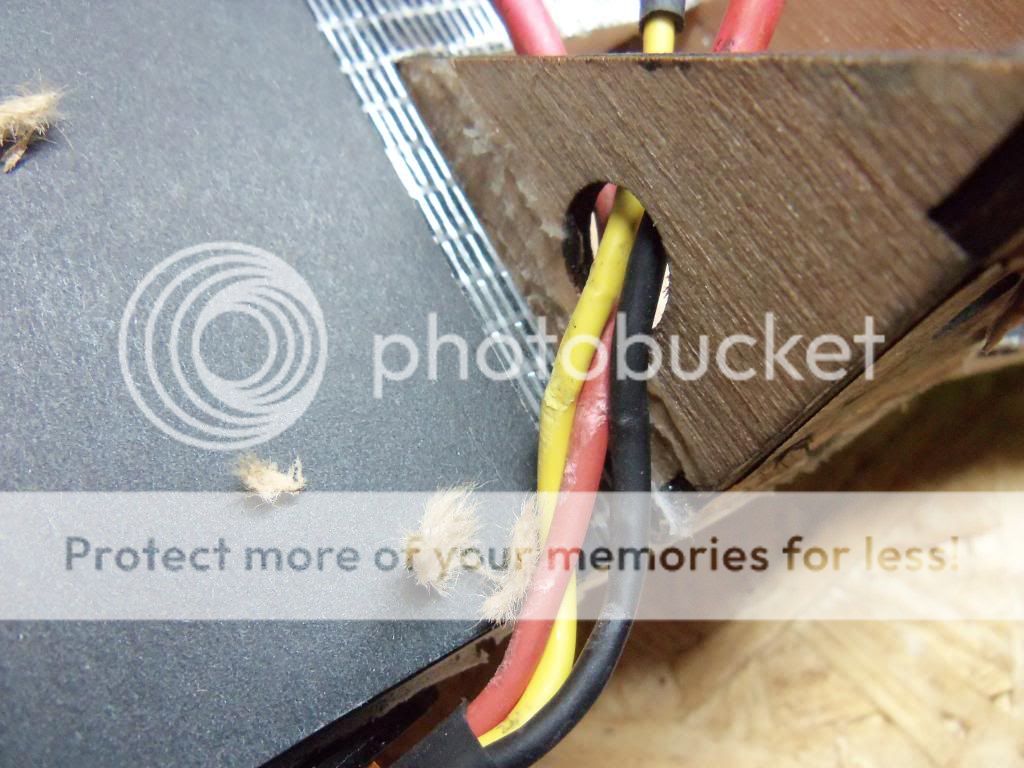 Just a shot of where the prop smacked the esc wires and unplugged itself.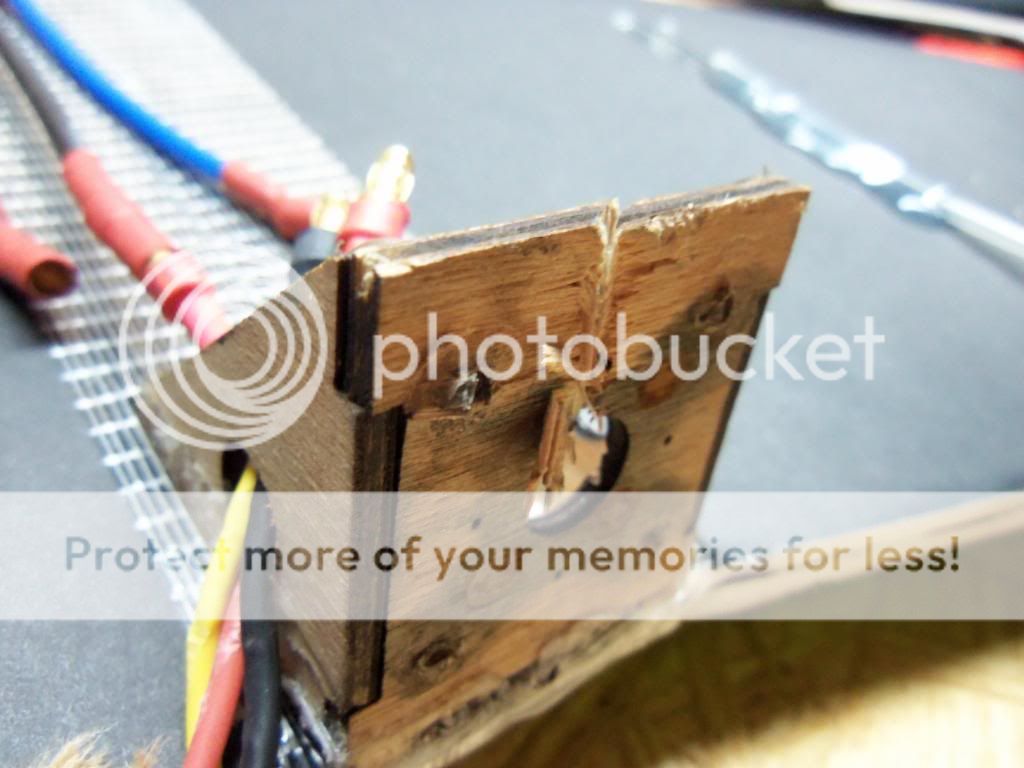 The prop actually cut all the way through the top side of my FT Elements firewall.
Just a shot of the back of the firewall where the prop went through.
So thats what happened to my plane. It got off lucky! Below is what happened to me. It's not absolutely horrible but horrible enough in the fact that it actually happened to me. You can see one gash laid open to show the muscle under the skin. There are actually three cuts there that are that deep. Now I've described what you will see if you click on the link. Last chance to change your mind before clicking!
http://s325.photobucket.com/user/frostgp/media/DSC_4462_zps6b5f75d5.jpg.html
Now that you've seen what happened to me, or even if you haven't, I want to explain my reason for this entire post and the reason I posted the picture of my arm. PLEASE learn from my mistake and remove your props when not flying. I know this could of been a lot worse. But I also know this could of been easily avoided by simply taking the time to remove the prop's!
Last edited: